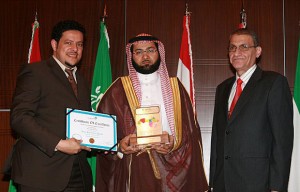 Early this year, King Saud University's electronic portal was named the Arab world's best educational website in a competition organized by the Pan Arab Web Awards Academy, earning the University department the esteemed Electronic Education Shield.
The award was recently presented to Yousef Al-Ohali, Dean of KSU's Electronic Transactions and Communications, during a ceremony held in Beirut, Lebanon. The occasion was attended by a large contingent of distinguished guests from throughout the Arab region including information and communication technology professionals, governmental leaders, as well as economists, academics, diplomats, bankers and media.
KSU Vice Rector Abdulaziz Al-Ruwais lauded one of KSU's latest successes, describing it as a sequel to the growing list of international honors which includes a significant climb in academic standing among Arab and Islamic universities and earning a place in the world's best 400 Universities of the prestigious Shanghai Rankings, as well as a high place in several other world-wide scales such as the British QS World University University Ranking, the Spanish Webometrics Ranking and Australia's 41CU Ranking. The Australia 41CU Ranking placed KSU 84th.
Vice Rector Al-Ruwais described the web award as validation of KSU's decision to adopt a totally electronic environment and its reliance on the best of new technologies of information and electronic transactions, while Dr. Al-Ohali praised KSU leadership and the departmental team for their relentless efforts to implement KSU's strategic vision and plans to make knowledge an essential ingredient of the Kingdom's economy.
"Earning this esteemed award and its international recognition are a strong impetus to do more and establish growing continuums of creativity and innovation," Engineer Abdulaziz Al-Oraij, Director of the Electronic Portal, said. "Such achievements only usher in more achievements."
Al-Oraij went on to explain that five factors are considered in the selection process for the award's recipient. They include (1)concept and creativity, (2) technical and ease of use and navigation, (3) content and structure, (4) visual design solution and aesthetics, and (5) interactivity.
He added that sub-divisions in the fifth factor, interactivity, include languages used in the website and their compatibility, content management systems, visual links between the website's main page and its various web pages, as well as the website's artistic identity, color system and contrast -- all of them having to comply with international website standards.
The Pan Arab Web Awards Academy, launched in 2004, is active throughout the Arab world and sponsors web awards competitions to encourage and promote the development of creative and effective websites.  It has previously announced web awards to recognize outstanding e-government, banking, and hospitality websites. The Pan Arab Web Awards program is a competition for web and business developers in the Arab world, with five main objectives:
To promote the spirit of innovation and creativity
To raise the standards of Web design and websites
To advocate growth and development of local talents
To establish intellectual property awareness
To encourage all sectors to become involved in the digital economy
The Deanship of e-Transactions and Communications was established in 1978 as the computer center on KSU's Al-Malaz campus in. After a humble beginning in which rented computers were used, the center's name was changed to Computer and Data Processing Administration and it embarked on a program of fast-paced development and acquisition of computers. The name was then changed to the General Directorate of Computer and Information Systems and finally became the Deanship of Electronic Transactions and Communications.
The Deanship provides KSU community members with technical support and assistance related to scientific research, information systems, data bases, equipment, servers, communication device, network, training and others. It also contributes and supports the technical infrastructure and provides upgrades to the communications and IT capabilities of the university staff members.
It's objective is to fully transform all services into e-transactions.
The Deanship recently launched a new service labeled "Sirati" (my CV), which affords students the opportunity to build their CVs in understandable and rapid steps, then allows the CV to be sent as a text document that can be downloaded, printed, and forwarded to concerned parties.
Related News