German Nobel Laureate recipient Dr. Herald zur Hausen will present a series of lectures and conduct discussions at King Saud University on September 27 through 29 in the Colleges of Medicine and Science, and at the Center for Female Scientific and Medical Colleges in Al-Malaz.
Professor zur Hausen, who earned the coveted Nobel Prize in Medicine in 2008, based on his ground-breaking research that linked human papilloma viruses (HPV)  to cervical cancer. He will speak on several cancer-related topics, as well as speaking with members of research chairs and research groups including graduate students in KSU's cancer research programs.
Even before his Nobel distinction, Dr. zur Hausen owned an international reputation for his long-time service at the German Cancer Research Center (DKFZ) in Heidelberg where for 20 years he was the management board chair of Germany's largest biomedical research institution.
Professor zur Hausen was born on March 11, 1936 in the Province of Westphalia in Germany. He received a Doctor of Medicine degree in 1960 from the University of Düsseldorf where he remained briefly as a medical assistant. He then moved to Philadelphia and worked at the Virus Laboratories of the Children's Hospital where he contributed to the discovery that a cancer virus, the Epstein-Barrvirus, can transform healthy cells into cancer cells – validation that viruses can cause cancer cell formation.
In 1976, Dr. zur Hausen published the hypothesis that human papilloma virus plays an important role in the cause of cervical cancer. He and a research team identified HPV16and HPV18 in cervical cancers in 1983 and 1984. This research was responsible for the development of a vaccine introduced in 2006.
In the 1990s, he advocated and adamently campaigned for significant funding for large research centers which have since been initiated. This year, as part of Germany's Health Research Framework Program, the federal government is establishing six German health research centers where focus will be on neurodegenerative diseases, diabetes, heart disease, infection, cancer, and lung disease.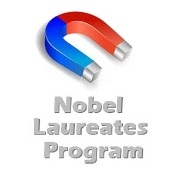 In an interview earlier this year, Dr. zur Hausen expressed his delight of Germany's progress and what it means to medical research, adding that the pooling of information makes it possible to translate results of basic and clinical research into medical care measures that can benefit patients much faster.
"The best research groups in university medical schools and non-university research establishments collaborate closely with these centers and also involve industry," he said. "This is meant to generate groundbreaking discoveries as fast as possible and open up new therapeutic possibilities. It is also important, however, that the equality of university and specialized researched institutions is recognized and respected.
The Nobel Laureate speaks proudly of Germany's progressive tack in medical research, but emphasizes that one country's effort success doesn't make . . . that research has to involve international exchange of knowledge and information.
"We are dependent on the international exchange of knowledge and information," he said in the same interview. "When I consider my own research activity at the German Cancer Research Center, I find that to a significant extent it is based on advances and insights in global molecular biology and technology."
In his quest to advance an effective international medical network, Dr. zur Hausen has taken his message on the road. Earlier this year, he attended the Nobel Laureate Meeting in Lindau and spoke to large groups of students and young researchers. This passion is what helped bring him to Saudi Arabia and King Saud University, where not only will he speak and meet with students and young researchers.
And as a public service, Program representatives will accompany Professor zur Hausen to visit oncologists in King Faisal Specialist Hospital and Research Centre in Riyadh.
Beyond this visit, Dr. zur Hausen made a commitment with KSU by signing a memorandum of understanding that members of his team will cooperate with the Kingdom's largest university and that King Saud representatives will do the same with DKFZ and King Saud University.  The agreement also will afford KSU senior students to train in Dr. Hausen's laboratory for the purpose of knowledge exchange and technology transfer.
KSU's Attracting Nobel Laureates Program
Dr. zur Hausen is the most recent Nobel Laureate recipient  to participate in KSU's Attracting Nobel Laureates Program launched in 2007. The  program is geared toward enriching the academic and scientific milieu at the University and across the Kingdom by benefiting from the ideas, expertise, and contributions of Nobel laureates in their respective areas of specialization, including medicine, economics, physics, and chemistry.
Some of the past laureates and the year they received Nobel recognition include:
Related News