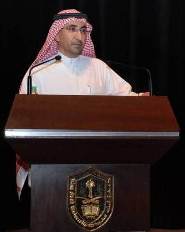 In an open meeting held on Sunday, October 14 in Al-Diriya, King Saud University Rector Abdullah Al-Othman spoke to KSU demonstrators and lecturers about the vision and progress of the Support Unit for Demonstrators and Lecturers (SUDL), a program designed to help such individuals to attend and excel at distinguished international universities, thus providing the Kingdom with a strong foundation for its growing knowledge economy.
The event, transmitted through closed TV circuits to the female campuses in Olaysha and Al-Malaz, also featured Vice Rector of Graduate Studies and Scientific Research, Dr. Ali Al-Ghamdi, as well as Dean of Graduate Studies and SUDL Director Ibrahim Al-Harkan.
Dr. Al-Othman spoke on the Unit's impact on the future of KSU, highlighting the importance of the human factor which constitutes the future of KSU in terms of manpower in academic and research areas, pointing out that in the past three years, KSU has recruited as many teaching assistants (male and female) as it had previously recruited over the past thirty years.
The Rector has placed a high priority on keeping KSU's distinguished graduates within the academic and scientific community, rather than freezing recruitment altogether. He expressed optimism over the statistics on the scholarship program, and as to the diversity of the recruitment, he asserted, "We are proud that there are more than 300 female students from KSU on scholarship abroad."
Al-Harkan confirmed that SUDL is keen on preparing a generation of highly qualified demonstrators and lecturers graduating from prestigious global universities, which is fulfilling KSU's vision for international leadership.
Al-Othman listened to and answered questions from attendees in Al-Diriya, Olaysha and Al-Malaz. He further explained that funding for scientific research at KSU is based on quality indicators and the contribution provided by the researcher. He affirmed that the graduate program at KSU does not exist merely to grant degrees of higher education; rather, it is a means for knowledge production, such as patents, scientific publishing and the establishment of cognitive institutions to serve the national economy.
The SUDL pursues the following objectives:
Support, guide and advise demonstrators and lecturers in order to secure them acceptance at distinguished universities, as well as ensuring that their English language proficiency meets university standards.
Cultivate existing relations between cooperating international universities and SUDL, improving  acceptance rates for demonstrators and lecturers.
Open channels of knowledge exchange and global experience by involving demonstrators and lecturers in the activities of the international universities.
Ensure demonstrators' and lecturers' deep understanding of its mission.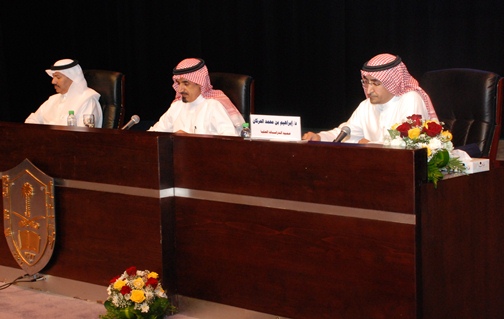 Related News