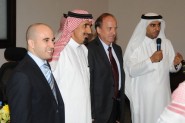 KSU Rector Abdullah Al-Othman on Sunday morning launched work in the Command and Control Center for Advanced Research, which is being established jointly between the university and IBM, the giant software manufacturer.
The inauguration of the center took place during the opening of the Software Engineering Forum 2011, held on October 16-18 on the premises of the College of Computer and Information Sciences.
Organized by the Software Engineering Department, the Forum addressed a multitude of topics including:
Software Engineering: The Emerging Computer Discipline
Service Oriented Architecture and Business Process Management
National Software Engineering Capabilities needs
Cloud Computing
ABET Accreditation
Hadoop Fundamentals using IBM Big Insights
The forum was also attended by Vice-Rector for Graduate Studies and Scientific Research Dr. Ali Al-Ghamdi, Dean of College of Computer and Information Sciences Prof. Hussam Ramadan, Chairman of the Software Engineering Department Abdullah Alghamdi and a number of high-level officials from the Saudi Arabian Ministry of Defense, Ministry of the Interior and National Guard.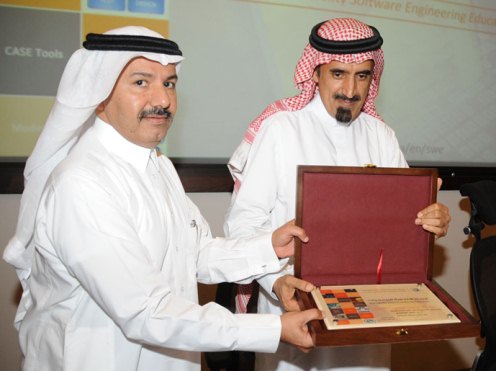 Taking part in the forum were representatives of the Kingdom's three key players in Saudi Arabia's "knowledge industry": King Saud University (represented by research center officials, researchers and graduate students), the industrial sector and Saudi government (military sectors, Ministries of Defense and Interior, the National Guard). In addition,  of banks, hospitals and companies that evaluate the means, modes and research of software engineering.
Rector Al-Othman expressed his pleasure that KSU's College of Computer and Information Sciences was taking part in this endeavor, adding that nations wishing to possess the means for a knowledge economy should develop the appropriate expertise, particularly the mastery of technology. He said that CCIS must continue to renew its objectives and vision, modifying them based on scientific trends, new technology and society's changing contexts. He said that in addition to its instructional role, CCIS serves as a producer of knowledge and distinguished scientific research, as well as being a key player in strengthening national security.
Indeed, the Rector noted, electronic systems are linked to the well-being of the Kingdom, as it relies greatly on modern technologies to guard national security. He expressed joy to see members of the National Guard and the Defense Ministry taking part in the forum, as their presence illustrates KSU's important part in national strategies.
He also lauded the participation of  IBM, adding that KSU looks forward to establishing more partnerships with the software giant, which will inevitably bolster the University's international leadership, facilitate Saudi Arabia's path to building a knowledge economy, and help KSU to establish local and international partnerships.
The Rector was briefed on plans for the new Command and Control Center for Advanced Research, which KSU has launched to build up local military invaluable security resources for the military establishment, whose representatives were at the inauguration. Many organizations are moving their physical security devices from closed proprietary networks to IP-based networks to increase situational awareness and ability to respond efficiently to incidents. IBM's integrated command and control centers provide a single graphical user interface to help  integrate, manage and maintain existing physical security systems and assets.