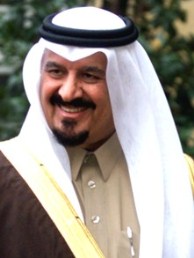 Vice Rector Abdulaziz Al-Ruwais expressed his deepest condolences yesterday to the Custodian of the Two Holy Mosques, the Royal Family, the King Saud University community and the Saudi people, on the passing away of Crown Prince Sultan bin Abdulaziz.
The Vice Rector said, "The painful loss of Prince Sultan, the Prince of Humanism, is only eased by the memory of his myriad accomplishments. Generations of Saudis will speak tirelessly of his magnanimous deeds".
The Vice Rector added that "Multitudes of people have benefited from his boundless generosity. Every charitable effort he made has brought invaluable help and relief to lives in disarray. His helping hand and gentle smile mended injuries of the heart and soul, and he shone as a master of the art of giving, serving as a model for humanists everywhere. He leaves us with memories of public service, above and beyond the call of duty. He leaves us with a simple lesson of greatness and kindness going hand in hand."
"We pray to Allah," he concluded, "That He will grant his mercy to our dearly departed Prince and will grant us solace and strength to bear our devastating loss. And we pray Allah to look after our King and our leaders".