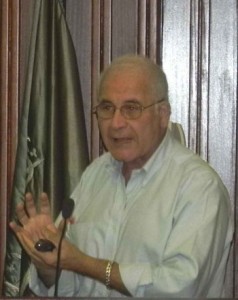 As part of King Saud University's Visiting Professor Program, noted researcher and professor Raif S. Geha, M.D., delivered a series of lectures on pediatrics and immunology at KSU's College of Medicine.
Dr. Geha is professor of pediatrics and immunology at Harvard University and head of the immunology division at Children's Hospital in Boston, both in the United States.
Dr. Geha, a Fellow of the American Academy of Allergy Asthma and Immunology, also discussed joint research programs with specialist faculty at KSU, was consulted by medical residents on a number of pathology cases and met with Vice Rector for Health Specializations Mohamed Al Shehri on ways KSU and Harvard can corroborate in areas of health, particularly in allergies and immunity diseases.
Dr. Geha received his M.D. in 1969 from the American University of Beirut, Lebanon, and trained in Pediatrics and Immunology at Boston Children's Hospital and Harvard Medical School. He is the James L. Gamble Professor of Pediatrics at Harvard Medical School and Chief of the Allergy/Immunology/Rheumatology and Dermatology Division at Children's Hospital in Boston.
His research interests are the molecular basis of primary immunodeficiencies and of atopic dermatitis. He has more than 500 published original articles, which have appeared in Cell, Immunity, Nature, Molecular Cell, PNAS, The Journal of Experimental Medicine, The Journal of Immunology and The Journal of Allergy and Clinical Immunology.
Over the past 30 years Dr. Geha has trained more than 100 postdoctoral fellows, many of whom have risen to leadership positions in the fields of allergy and immunology.
Among the honors he has received are the Mead Johnson Award for Pediatric Research, the Kuwait Foundation for the Advancement of Sciences Prize and the American Association of Immunologists Award for Human Immunology Research, as well as other recognition.
Related News