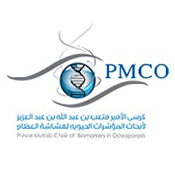 In cooperation with England's University of Warwick, the Prince Mutaib Chair for Biomarkers on Osteoporosis held a workshop on Sunday, November 27, entitled "How to Develop a Good Scientific Research Proposal".
Speakers included Associate Professors Gyanendra Tripathi and Philip McTernan of the Warwick Medical School's Division of Metabolic and Vascular Health.
Dr. Nasser Al-Daghri, associate professor in the Department of Biochemistry and supervisor of the Prince Mutaib Chair for Osteoporosis (PMCO), opened the workshop by giving an overview of its objectives and how to test new research ideas.
Dr. Shaun Sabico, who manages statistics and scientific writing at the Biomarkers Research Program (BRP), next spoke about the program's experience with projects funded by the Kingdom's National Plan for Science, Technology and Innovation and King Abdulaziz City for Science and Technology (KACST).
Dr. McTernan lectured about the types of medical research, how to establish a clear research idea and how to write a research proposal, followed by a session in which groups were separated into groups by Dr. Tripathi and Dr. McTernan. The group work gave participants the opportunity to apply best practices for selecting good research ideas in various medical disciplines, developing the ideas into a proposal and then writing the proposal. They also emphasized the factors most important to proposal reviewers such consistency, organization, main ideas, an idea's importance to society and the extent of these expected benefits to society.
The visiting experts ultimately helped the participants to understand the importance of supporting data and procedures, which must be cohesive, well-structured and make scientific and rational sense. The workshop concluded with a display of sample proposals for participants to critique.
The event, a collaboration between KSU and the University of Warwick, attracted 70 researchers, including 30 females, from every KSU college, and took place at the College of Science building.
Related News