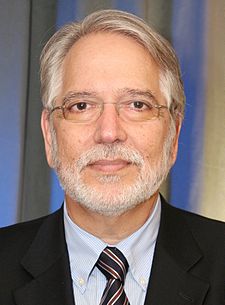 Three noted medical researchers including Dr. Soundararajan Krishnaswamy from the King Saud University Biomarkers Researcher Program (BRP) are being featured today, December 11, in a KSU College of Medicine lecture series entitled: "The Basics of Cancer/Secular Trends in Childhood Obesity."
In addition to Dr. Krishnaswamy, the participants include Professor Jacques Dumont of the University of Brussels Institute of Disciplinary Research Chair and Professor George Chrousos of the University of Athens School of Medicine.
Dr. Krishnaswamy's topic will be "Alternative Splicing as a Hallmark of Cancer." Alternate splicing, or differential splicing, is a process by which the exons of RNA produced by transcription of a gene are reconnected in multiple ways during RNA splicing. Abnormal variations in splicing have been implicated in a large number of human pathologies including respiratory and metabolic diseases, cancer and Alzheimer's.
Dr. Chrousos, chairman of the University of Athens' First Department of Pediatrics, will speak on "Childhood and Adolescent Obesity: Secular Trends and Socioeconomic Consequence." He has written 600 scientific papers – all or parts cited in 50,000 other papers -- and is deemed to be the world's most cited clinical endocrinologist and pediatrician. He has been inducted as a master by the American College of Endocrinology and the American College of Physicians.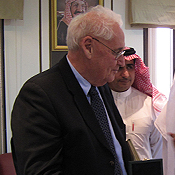 Dr. Dumont's presentation will be "The Hallmarks of Cancer," a list of traits or "hallmarks" that govern the how – as one source stated – "a renegade cell to cause a deadly cancer. The hallmarks were introduced in 2000 by Drs. Douglas Hanahan and Robert Weinberg, six listed at the outset and another four recently added in 2010.
Dr. Dumont was the founding director of the Institute of Disciplinary Research (IRIBHM) at the University of Brussels and cited for his work in biology and biochemistry. He recently became associated with the Biomarkers Research Program, sponsor of this forum.
The forum will begin at 8 a.m. in the College of Science's AA35, Building 5 and can also be seen at the Female Center for Scientific and Medical Colleges Theater 20 in Building 20. CME credits will be awarded for those in attendance.
Related News