King Saud University's Abdulrahman Al Rajhi and Family Foundation Chair for the Role of Saudi Women in Developing Society recently held a panel session on Saudi Women and their participation in national councils and public discourse.
Among those participating in the session, held in the Maqsoura Conference Hall, were former Shura Council member Dr. Abdulaziz Ibn Abdulrahman Al-Thunayan and several female consultants of the Council.
Representing the KSU Research Chairs Program were Assistant Vice Rector for Graduate Studies & Scientific Research, Dr. Mohammed Wadaan, while panel discussions were moderated by Dr. Nora Al-Mubarak.
Attendees included several female academics from KSU, Princess Noura bint Abdulrahman University and Imam Muhammad ibn Saud Islamic University.
Dr. Al-Thunayan related his experience in the Shura Council, and the council's role.
Shura Council consultants Drs. Wafa Mahmoud Taibah and Noura Al Adwan spoke about their experiences and the challenges that faced them in their work on the local and international levels. They also discussed the desired role of female members of the council and what responsibilities that entails in fulfilling the organization's mission statement.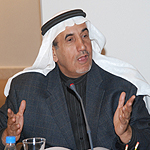 Dr. Al Adwan, the Al Rajhi Chair supervisor, said the panel grew out of the Chair's dedication to raising awareness of the role of women in organizational councils such as the Shura, and building a culture of parliamentary processes among women, a new experience for women in the Kingdom.
The two King Saud University professors began serving the Shura Council after a decision by King Abdullah to allow women to run and vote in municipal elections and become members of the council, on which 12 female consultants currently serve. Dr. Taibah is a professor of educational psychology, while  is Dr. Al Adwan is a professor of curriculum and instruction.
In his September inaugural speech at the Shura Council, King Abdullah rejected the marginalization of women in all sectors and embraced their participation in political life. Citing examples of prominent women throughout Islamic history, his speech showed great determination to empower Saudi women and end attempts to undermine their role in the name of Islam. The King stressed the need to modernize society and include women in decision-making processes.
Her Royal Highness Princess Hessa bint Trad Al-Shaalan, spouse of King Abdullah, presided over the 2008 launching of the Chair, which researches the roles of women in the Kingdom's knowledge-based society, ensuring their social stability and prosperity, improving their quality of life and monitoring their progress. The Chair serves as an invaluable public service that embraces values and goals that are in line with the teaching of Islam and the sensitivities of Saudi society.
Related News