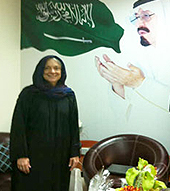 On Saturday, December 17, King Saud University's Center for Female Scientific and Medical Colleges in Al-Malaz received Dr. Deborah Smith, associate professor of ecology and evolutionary biology at Kansas University. She was greeted by the College's Dean Einas Al-Eisa and Vice Dean Nadia Al-Ghreimil, as well as Dr. Ebtesam Al-Olayan, who leads the center's Medical Studies & Sciences sections.
After some warm words of welcome, the Centre's dean, Dr. Einas Al-Eisa, briefed the distinguished guest on the various units of the university, detailing their objectives and aspirations. Dean Al-Eisa also outlined KSU's advances in academics and the development of KSU's University City for Girls, which will soon accommodate over 30,000 female students.
Accompanied by Dr. Al-Olayan, Professor Smith toured the campus and met with Dr. Badriah Al-Abdulkarim, Vice Dean of Quality at Al-Malaz. The vice dean briefed her on the aims and achievements of  and, in the presence of bee research faculty members, she talked about the studies which had been carried out in the Food and Nutrition Department.
The visitor then observed the research facilities on the campus' central laboratories, whose director Dr. Maha H. Daghestani gave detailed explanations about the lab, its units and its tasks.
As Dr. Smith is an authority on honey bee biogeography, a group of KSU Saudi bee researchers were thrilled with their opportunity to show the American expert the results of their latest studies on the use of honey and its health benefits, properties and quality.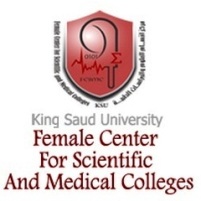 As she was leaving, Professor Smith lauded the female faculty and students of KSU, saying that she was impressed by the University's cutting-edge resources and technology, as well as the courtesy and warmth of her hosts.
Dr. Deborah Smith is a researcher of social arthropods (i.e. termites, ants, wasps, and bees), who has been a Kansas University faculty member since 1991. She has received ample praise for not only her research, but her excellence in teaching.
Her visit to the Kingdom is part of the University's strategy of introducing faculty and students to international leaders in scientific research and academics, whose advice and insight will ultimately benefit the university as a whole.
Related News