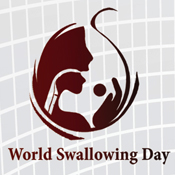 In a public awareness campaign organized to emphasize swallowing disorders, their causes and the manner in which they can be detected and treated, King Saud University recently launched activities for World Swallowing Day.
The campaign, inspired by the annual World Voice Day, is being supported by KSU's Research Chair of Voice and Swallowing Disorders (RCVASD) in collaboration with KSU's ENT department.
Dr. Mohamad Farahat, the supervisor of King Khalid University Hospital's swallowing disorders clinics and an RCVASD member, announced that the campaign was launched January 3 at the King Khalid University Hospital's outpatient building where testing was conducted, but the campaign will be continued next month with three days of public outreach activities at three Riyadh malls.  Activities will include the distribution of gifts and informational brochures and the airing of a video, entitled The Talking Pharynx, featuring the Fiberoptic Endoscopic Evaluation of Swallowing (FEES), an assessment procedure used in assessing swallowing disorders.
The FEES assessment is revolutionary because of the device used in the process, called the fiberoptic laryngoscope which is a thin, flexible fiberoptic telescope with a camera attached to a bright light. The device is inserted through the nose and painlessly guided down the pharynx (back of the throat) to assess laryngeal penetration, aspiration and reflux of secretions.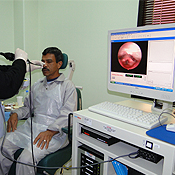 The test procedure requires only 15 to 20 minutes, followed by an assessment of results and possible treatment, if necessary. Not only does FEES technology provide quicker out-patient testing, but results and recommendations for treatment and/or dietary changes are immediately available and is more cost-effective.
King Saud University's participation in World Swallowing Day is part of the RCVASD's quest to achieve medical leadership for King Saud University in the Kingdom and Arab society and in the education of people in the chair fields. The quest also includes the KSU Medical College's desire to serve the Saudi society by early diagnosis and effective management of voice and swallowing disorders, and to find the best methods for prevention of such diseases.
KSU's RCVASD has been extremely active locally, regionally and internationally dealing with voice and swallowing disorders.
Next February 20-22, the Chair will conduct its fourth Conference on Voice and Swallowing Disorders, an occasion that will bring to Riyadh three of the world's foremost experts in the field. They include Thomas Murry of Cornell University, one of America's elite Ivy League schools and a visiting professor at KSU; Peak Woo of New York University and a former invited speaker at KSU; and Milan Amin of Mt. Sinai Hospital in New York.
Related News