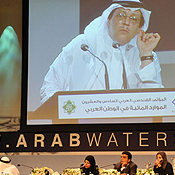 By 2040, Saudi Arabia will be treating an estimated 8 million cubic meters of waste water per day, a large portion to be used for drinking water in a country once confronted with an acute fresh water shortage.
That was a major prediction offered by Dr. Waleed M. Zahid, the featured speaker at the 26th Arab Engineering Conference held January 7-10 in Jeddah, the conference's theme being "Water Resources in the Arab Countries".
According to Dr. Zahid, Associate Professor in King Saud University's Environmental Engineering Department and supervisor of the Prince Khalid bin Sultan Chair for Water Research, the Kingdom presently is processing 3.7 million cubic meters of waste water daily and using only 1.2 million cubic meters per day, 75 percent devoted to irrigation.
Dr. Zahid predicted that the Kingdom's expanding will accelerate the pace with the majority of production coming from sea water. He cited the areas where treated waste water is presently being used – 28 desalination plants scattered around the Kingdom -- and provided examples of the Kingdom's water projects, the types of water treatment stations in use, the capacity of water treatment facilities and the Kingdom's major water recycling issues.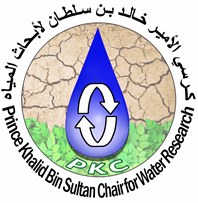 In April of 2009, Saudi Arabia opened what is proclaimed to be the world's largest desalination plant in the Eastern Province's Jubail Industrial Zone, a $3.8 billion facility which has tranformed what once was a sleepy fishing village into a formidable industrial facility.
Treated wastewater, Dr. Zahid explained, is a strategic resource with multiple urban uses such as irrigation of green areas, gardens and street trees. He said it also has industrial value for refrigeration and manufacturing processes and can be used to supplant natural water resources in recreation and the enhancement of wild life.
The drain on underground water will be gradually curtailed to stop its wasting, assuring the continuity of various developmental operations and preserving the Kingdom's developmental achievements of the past decade.
Another plan in the Kingdom's desalination process includes the use of solar energy to power the plants rather than with fossil fuel, an abundant commodity in the Kingdom but less environmentally friendly than solar energy.
In addition to Dr. Zahid's speech, his KSU Chair presented an exhibition that showcased the latest technologies and solutions for effective water resource management, conservation and recycling. The exhibition afforded participants the opportunity to network and arrange meetings with experts and solution advisors and display a wide range of emerging state-of-the-art technologies.
The Chair also introduced its potential, research activities and services to society through counseling, waste water treatment, training sessions, panels, scientific meetings and technical sessions in which waste-water personnel can enhance their skills.
Related News