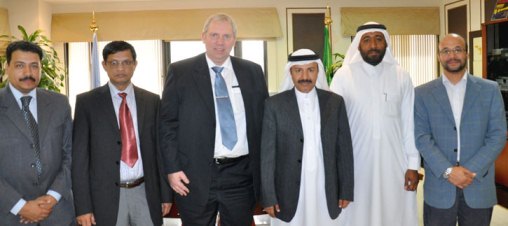 A working relationship between King Saud University's Chair for Advanced Proteomics and Cytomics Research (APCRC) and Germany's Leibinz Halle Institute of Plant Biochemistry was discussed during recent meetings involving Dr. Ludger Wessjohann, the Leibinz Institute of Plant Biochemstry's managing director, and KSU officials.
The Leibniz Institut für Pflanzenbiochemie (IPB): Bioorganic Chemistry is a private research center in the Leibniz Association, one of the world's largest research organizations with 87 institutes, 7,100 scientists and 16,000 staff overall, supported by a 1.billion euro budget. The IPB has four departments manned by 150 scientists, students, and guest researchers who utilize a multidisciplinary style in their work.
Professor Wessjohann, a King Saud University visiting professor, expressed his respect for both the research development and potential of KSU's Chair for Advanced Proteomics and Cytomics Research (APCRC) during the meetings in which he participated in several experiments and held discussions with KSU officials including Dr. Ali Al-Ghamdi, Vice Rector for KSU Graduate Studies and Scientific Research and APCRC Supervisor Dr. Mohammad Wadaan.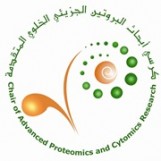 Vice Rector Al-Ghamdi emphasized the importance of such partnerships in the transfer of knowledge and modern technologies and added that KSU is eager to produce quality scientific output including having research papers published in renowned journals and the acquisition of licenses.
In addition to Dr. Wesshohann and King Saud University officials, the meetings' participants included Dr. Mohammad Nur-e-Alam, Professor in London's Chemistry of Natural Products from Biotica Technology Limited, and APCRC professors Wael Nabil Hozzein.
The IPB was founded in 1958 by Kurt Mothes. The late Mothes  and his successor had extensive backgrounds in biological, pharmaceutical and chemical sciences, which greatly influenced the institute's nature of research. The institute was re-founded in 1992 to maintain and advance 30 years of successful research. Since then, the facilities have been thoroughly modernized and expanded and the institute has maintained a close connection with nearby Martin Luther University.  Professorships and directorships at both institutions have been jointly decided, making for a close working relationship that has benefitted both research and teaching.
Related News