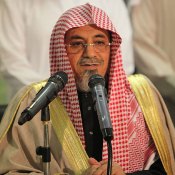 Sheikh Salih Bin Humaid, an imam of the Masjid al-Haram (the Grand Mosque in Makkah, Saudi Arabia) and the head of the Saudi Consultative Council, recently praised King Saud University as "a pillar of light that will not bow to any storm and that deserves the most distinguished praise."
Dr. Bin Humaid made the statement recently, after he and KSU officials formalized two agreements that will fund cooperation between the University's Research Chair of the Holy Quran and its Sciences and Tafsir (the Center for Quranic Studies). Tasfir is the Arabic word for commentary, usually of the Quran.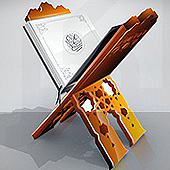 Also in attendance for the signing ceremony, held at the College of Education building, were KSU Rector Dr. Abdullah Al-Othman; Sheikh Mohammad Al-Amoudi, who is funding the chair; prominent Saudi industrialist Sheikh Abdullah Baqshan; Dean of KSU's College of Education Dr. Abdullah Alajaji; and other KSU College of Education faculty members.
Dr. Bin Humaid underscored the assistance of KSU in enlisting modern technology to spread the light of the Holy Quran as far as possible.
"As Muslims, we take great pride in our holy book of God, and in the Sunna of our noble prophet, peace be upon Him," he said.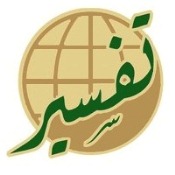 "Muslims continue to take pride in these two holy sources, especially in the current uncertain and troubled times of political, economic and security upheavals. Muslims do not budge in their adhesion to the Holy Quran and the Sunna, and this explains the wide reach of Islam and the great potential of Muslims in spite of many adversities."
Related News