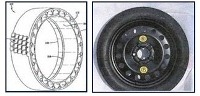 On January 25, 2012, the European Patent Office (EPO) granted King Saud University a patent for A Supplementary and/or Backup Wheel System for an Automobile and Method of Lifting an Automobile in the Area of a Wheel. The invention, developed by Dr. Khaled Al-Rasheed, makes it possible for spare tire to be installed on a vehicle without the use of a conventional jack.
According to the patent application, the invention refers to a supplementary and/or backup wheel system for an automobile. This new system provides the means to lift an automobile from the ground using the wheel hub.
The invention is a wheel made up of two or more interconnecting parts, which are installed one after the other. After installing the first part, the car is moved a small distance forward so that the other part(s) may be installed. Once the pieces form a complete wheel, the vehicle is able to drive to the nearest repair center.
Changing a tire using traditional spare tire systems can be quite problematic due to limited roadside space for setting up a jack or loosening impossibly tight lug nuts. Dr. Rasheed's innovative backup-tire system, however, does not require removal of the flat tire, but remains attached to the wheel hub. Minus the lug nuts, a jack and tires to remove and replace, this new system offers people a much safer way to get back on the road.
Dr. Khalid Al-Saleh, Director of KSU's Intellectual Property and Technology Licensing (IPTL) program, said that after researching and evaluating the patent application, the IPTL authorized an international law firm to submit it to the EPO, one of the most esteemed patent offices in the world. Dr. Al-Saleh said that this invention is a candidate for six patents in leading car-manufacturing countries such as Germany, Britain, Austria, Italy, France and Spain. He added that the invention possesses significant marketing potential.
Dr. Al-Rasheed's invention has already been referred to KSU centers, such as the Prince Sultan Advanced Technologies Research Institute (PSATRI), to prepare the required prototype models required for marketing and technology licensing procedures.
Related News