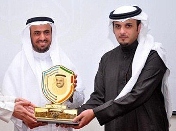 King Saud University's Preparatory Year (PY) Deanship gave a reception in late January to honor its outgoing dean Dr. Abdulaziz Al-Othman, who has moved to the Skills Development Deanship.
The reception was a token of appreciation from the Deanship's students, faculty and staff.
Dr. Al-Othman was greeted at the ceremony by his successor, Dr. Abdulmajeed Albanyan, who previously held the post of vice dean, as well as PY Vice Dean Dr. Fayez Al-Ghamdi and heads of educational institutions, program directors, division chairmen, deanship staff and a number of students.
The ceremony began with an address by student Yazid Al-Dufyan who spoke on behalf of the students. A documentary film produced by the Office of Information and Public Relations was then shown, and it included comments by a number of Deanship officials, KSU administrators and students. A number of individuals who have traveled abroad on Deanship scholarships made appearances on the video, in which Dr. Al-Othman was lauded for his efforts to make the PY a model of excellence and equipping the Deanship with the high tech buildings and facilities needed for a world-class education in the 21st century.
After comments from Dr. Albanyan and Dr. Al-Ghamdi, Dr. Al-Othman received a number of ceremonial gifts from audience members. Greatly moved, Dr. Al-Othman expressed his gratitude and pride in the profound loyalty displayed by the Deanship community. He thanked everyone for their gifts and sentiments, taking great satisfaction in having served such a distinguished and ambitious team.
Established in 2007, the Preparatory Year Deanship offers new students programs that endow them with high ethical standards and equip them with the skills needed for success in their academic and professional careers while emphasizing self-development and creativity.