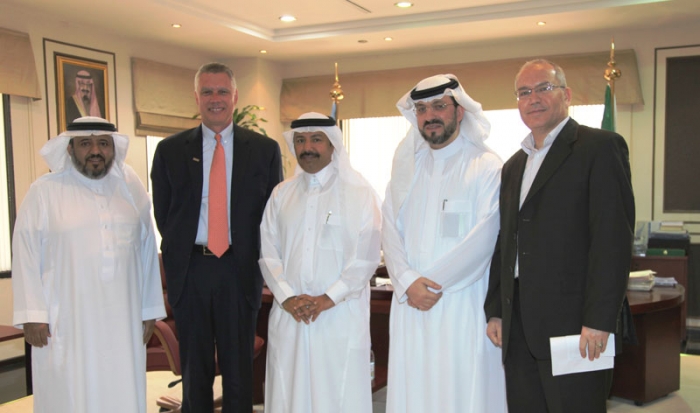 Dr. Robert Dietrich, Northeastern University's Associate Vice President for International and Interdisciplinary Initiatives, visited King Saud University this March to discuss potential joint research cooperation between Northwestern and KSU.
The American met with Ali Al-Ghamdi, who as KSU Vice Rector for Graduate Studies and Research has been instrumental in KSU's growing number of international partnerships with distinguished universities and research centers.
Dr. Dietrich is a proven collaborative leader with experience in managing and motivating advancement teams ranging in size from 5 to 15 members and the ability to oversee budgets of more than a million dollars. He also is a senior advancement professional with more than 20 years of experience in alumni relations and fund raising.
After his discussion with Dr. Al-Ghamdi, Dr. Dietrich toured KSU's main campus accompanied His Excellency Dr. Nasser bin Saleh who showed the American visitor several of KSU's distinguished features including the Al Mansour Gallery, the  Prince Salman Library, the King Abdullah Institute for Nanotechnology (KAIN) and the Institute of Advanced Manufacturing Technology.
Dr. Dietrich, highly accomplished in all aspects of development, strategic planning and campaign management, expressed his respect for KSU's developmental movement and said it should play an integral role in making the knowledge-based economy a reality in the Kingdom.
Related News