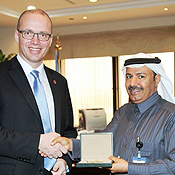 Jørn Pedersen, mayor of Kolding, Denmark, was a recent visitor to King Saud University where he and his delegation were received by Dr. Ali Al-Ghamdi, KSU's Vice Rector for Graduate Studies and Scientific Research.
The Danish contingent and Dr. Al-Ghamdi discussed means of bolstering bilateral cultural and educational cooperation between KSU and Danish universities before taking a tour of KSU facilities including the University's documentary exhibition, the King Abdullah Institute for Nanotechnology (KAIN) and the Institute for Advanced Industries and Industries Technology.
The visitors also had an interest in the KSU facilities considering that Kolding has a branch of the University of Southern Denmark which is housed in a former hospital, but a new university facility is under construction and is expected to open in 2013.
Kolding is Denmark's seventh largest city with a population of 57,197, but is part of the East Jutland area which has 1.2 million inhabitants. A port city, Kolding has numerous industries that are linked to shipbuilding, but also has manufacturing interests in machinery and textiles and the export of livestock.
The visitors were impressed by KSU's facilities and lauded its developmental drive.
Related News