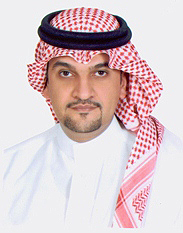 When Mohammad Al-Omran and Subodh Verma were senior residents at the University of Toronto, the two surgical trainees would spend much of their limited leisure time discussing potential research projects.
Eventually they incorporated one of their ideas into a research project that seven years later made Dr. Al-Omran and Dr. Verma the principal inventors of a U.S. joint patent involving an innovative treatment for cardiovascular disease.
Patent No. 8,110,185 B2, entitled Method for preventing and treating cardiovascular diseases with BRCA1, was granted to King Saud University and St. Michael's Hospital,on February 7, 2012.
"Although it took us several stressful years to prove the concept, I am very glad and happy that we made a useful discovery and came to conclusions that might help prevent and treat cardiovascular diseases," said Dr. Al-Omran, an associate professor and consultant vascular surgeon at King Saud University. "I hope that in a few years this discovery can be moved from the experimental phase to application on patients.
"When that happens, I will be even more gratified than I am now. Cardiovascular diseases are the leading cause of death world-wide and this research will pave the way for developing therapies for treatment and prevention of these diseases."
The concept was formulated while the two were doing their surgical training in Toronto. Dr. Al-Omran took notice that there were a significant number of patients with breast cancer who were receiving chemotherapy (Doxorubicin) as part of their treatment who suffered heart failure and he was aware that the tumor suppressor gene BRCA1 is mutated in approximately 50 percent of inherited breast cancers.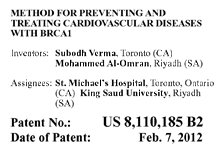 This begged several questions: Is there a relation between heart failure and the mutated BRCA1 gene? Is there a relation between cancer and cardiovascular diseases? Are there similar mechanisms that can lead to both cancer and cardiovascular diseases and are there ways to cure and prevent both at the same time.
These questions launched experimentation with mice in which the BRCA1 was removed and Doxorubicin was administered, frequently causing heart failure. Conversely, when the BRCA1 gene was reinserted the gene, heart failure in the mice was minimized and it became easier to treat them.
"The research proved BRCA1, which normally suppresses the growth of breast and ovarian tumors, also protects the heart," Dr. Al-Omran explains "More experiments were conducted and results indicated that there are additional benefits related to the use of BRCA1 in the prevention and treatment of cardiovascular diseases"
Dr. Al-Omran and Dr. Verma, now a renowned professor and researcher at the University of Toronto, worked side-by-side from the beginning of the experimentation until 2005 when Dr. Al-Omran returned to the Kingdom and KSU from where he received his medical degree with First-Class Honors in 1995. The research continued in both Saudi and Canada, and in 2008 their work received a tremendous boost when KSU and Li Ka Shing Knowledge Institute signed a collaborative agreement in research and education.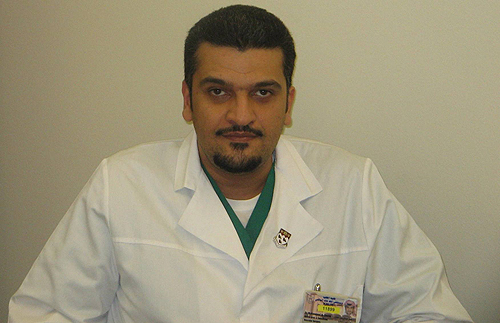 "After that our worked excelled in a very positive way both at the personal level and at the levels of both institutes," Dr. Al-Omran said.
Dr. Al-Omran, however, emphasizes that while the patent represents an enormous amount of time and energy, a major challenge still confronts the researchers and their project. What was defined through animal research must now be translated into a source of hope for humans in the prevention and treatment of cardiovascular diseases. This phase will be more difficult and challenging, he explained, because it will require more sophisticated and expensive experimentation to attain ethical medical approval."
As soon as the research project acquires appropriate funding, Dr. Al-Omran said he and his colleague will proceed with the next phase. He offers no timeline, but said he and his colleague are enthusiastic about moving forward on a project that will hopefully one day offer a safe and effective means to apply the benefits to humans.
An associate professor in the KSU Department of Surgery and a researcher at the Li Ka Shing Knowledge Institute, Dr. Al-Omran is an individual who is highly-published, frequently selected to chair medical activities, and a recipient of numerous honors, and in recent years he has  been devoting 10 to 15 hours a week on his research.
According to Dr. Al-Omran, research is a way of life at King Saud University from which he explains "more than 50 percent of our postgraduate medical trainees and students abroad are already enrolled in formal research programs alongside their clinical treatment."
In addition to being the result of a significant medical breakthrough, Dr. Al-Omran believes the patent represents King Saud University's commitment to research, particularly through its Research Chairs Program, its International Twinning Program and its recruitment of outstanding faculty and researchers.
"More than 50 percent of our postgraduate medical trainees and students abroad are already enrolled in formal research programs such as Master's and Ph.D, programs alongside their clinical training," said Al-Omran who from KSU traveled to Toronto where he found a perfect match in Dr. Verma, with whom he shared the recent success.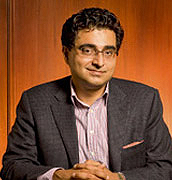 ["Dr. Verma] primarily concentrated on the basic science aspect and I was mainly involved with the clinical research aspect," Dr. Al-Omran said. "We began to combine our ideas to develop a collaborative research project in which bench to bedside research was applied . . . or what is called translational research."
By having more active collaborative health-related research projects with leading and reputable international research centers,  coupled with increasing KSU graduates pursuing their clinical training abroad, Dr. Al-Omran has no doubt that his university will have a major positive impact on the future of health research in Saudi Arabia and beyond the Kingdom.
"This will translate our vision and mission at KSU in transferring the technology and exchanging the knowledge in a few years," he said. "This will be a real starting point to build the knowledge-based economy in the health field and will contribute positively on the health care of the individual patient through  more discoveries and better delivery of different treatment options at both the national and the international levels.
"I strongly believe that KSU is a knowledge-sharing university, establishing and harboring all the successful programs that fostered the research revolution at the University and Saudi Arabia.
Related News