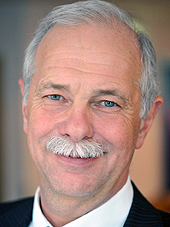 Dr. Jürgen Mlynek, president of the Helmholtz Association of German Research Centers, visited King Saud University on Sunday and met with Dr. Ali Al-Ghamdi, KSU's vice rector for Graduate Studies and Scientific Research, on cooperative areas of research between the sides.
Also attending the meeting was Dr. Mezyad Alterkawi, executive director of the Riyadh Technology Incubation Center (RTIC), and a delegation accompanying Dr. Mlynek.
Professor Mlynek visited the documentary exhibition of KSU's developmental programs, King Abdullah Institute for Nanotechnology (KAIN), Prince Sultan Advanced Technologies Research Institute (PSATRI) and the Institute of Advanced Manufacturing Technology.
The visiting delegation expressed admiration for KSU's research activity, acknowledging that this will contribute greatly to the development of Saudi Arabia's knowledge-based economy.
The Helmholtz Association of German Research Centers is Germany's largest scientific organization with an overall budget of approximately 3 billion euros and about 30,000 employees in 17 affiliated research centers around Germany. The organization is named for the 19th-century physician and physicist Hermann von Helmholtz, who made significant contributions to several areas of modern science, including physiology, psychology, visual and aural perception and the philosophy of science.
Dr. Mlynek earned his doctorate at the University of Hannover (Germany) in 1979 and his habilitation in 1984. After teaching at the IBM Research Laboratory in the United States and ETH Zurich (Switzerland's Institute of Technology), he became a professor of experimental physics at the University of Konstanz (Germany) in 1990.
Dr. Mlynek served as vice president of the German Research Foundation (DFG) from 1996 to 2001, and in September 2000 he became president of Humboldt University in Berlin, which he developed into one of Germany's leading universities. He has received numerous science and research awards, including the Officer's Cross of the Order of Merit of the Federal Republic of Germany.
Related News