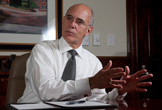 On Tuesday, April 2, Dr. Ali Al-Ghamdi, King Saud University's Vice Rector for Graduate Studies and  Scientific Research, received  the Provost and Executive Vice President for Academic Affairs of Georgia Institute of Technology Rafael Bras and an accompanying delegation.
The meeting addressed venues of research cooperation and enhancement, as well as means of realizing mutual benefit from the expertise of each institute.
The meeting was attended by Dr. Mezyad Alterkawi, the CEO of the Riyadh Technology Incubation Center (RTIC), which supports local and national innovators and entrepreneurs with invaluable resources.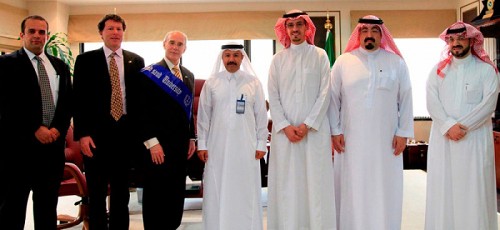 Also meeting with Dr. Bras was Dr. Hany Al-Ansary, Assistant Director of KSU's Intellectual Property and Technology Licensing Program (IPTL), through which KSU innovators and other individuals can protect their intellectual property first and realize their creative ideas transformed into real products that have an impact on society.
Dr. Al-Ansary, received his PhD in Mechanical Engineering from Georgia Tech, a distinguished university with top-ranked programs in the sciences, engineering, computing, architecture, and related areas.
Dr. Raphael Bras, who is also a Professor Emeritus of MIT, leads an advisory committee, the International Advisory Group, which is helping chart the course for Georgia Tech's overseas partnerships.
The visiting delegation listened to ample description of KSU's developmental programs and research projects, and the research cooperation venues between KSU and comparable international universities.
In a campus tour, the delegation was shown several of KSU's most prominent research facilities such as the Innovation Tower in the burgeoning Riyadh Techno Valley (RTV) complex. The guests expressed their admiration for the vigorous research activities taking place at KSU, and emphasized how such endeavors will inevitably contribute to evolving Saudi economy into a knowledge based economy, adding more luster to the Kingdom's rising international status.
Related News