King Saud University Rector Abdullah Al-Othman and Pascal J. Goldschmidt, Dean of Medicine at the University of Miami, signed an agreement on Tuesday, April 3, between KSU, which promises future research cooperation between the KSU Ophthalmology Department and the Bascom Palmer Eye Institute, the premier eye hospital in the United States.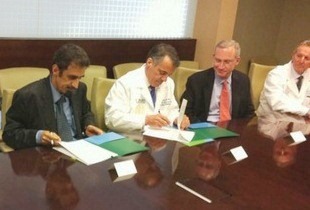 The signing ceremony, held at the University of Miami, was attended by Dr. Saleh A. Al-Obeidan, chairman of KSU's Ophthalmology Department, and Bascom Palmer Eye Institute Chairman Dr. Eduardo C. Alfonso.
Dr. Al-Obeidan said the agreement aims to cultivate a valuable research partnership between the two prominent universities, and that according to this agreement, the two sides will collaborate on medical research and education, creating opportunities for KSU's College of Medicine students to work with the most advanced of eye research centers, and familiarize themselves with different teaching methods.
He said the MoU also will allow KSU students and graduates to gain experience working with research projects conducted by highly-distinguished international researchers. He said the new opportunities will increase their chances of obtaining ophthalmology fellowships from the most prestigious centers in the United States and ultimately improving the standard of health services offered by KSU to the general public.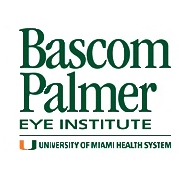 Dr. Al-Obeidan pointed out that the Bascom Palmer Eye Institute, now in its 50th year of operation, is among the most prominent research and medical institutes in ophthalmic medicine and surgery in the world, ranking as the best training center for ophthalmologists because of the quality of its ophthalmologists and research faculty.
KSU, he added, will use this agreement to raise its standing among medical, educational and research service providers in the region and worldwide.
King Saud University's Ophthalmology Department has graduated most of the ophthalmologists now serving throughout the Kingdom, as well as many of the nation's top ophthalmology researchers, while it is also distinguished for the high number of quality research papers its faculty publishes annually.
As the largest ophthalmic care, research and educational facility in the southeastern United States, the Bascom Palmer Eye Institute treats more than 250,000 patients with nearly every ophthalmic condition each year and more than 12,000 surgeries are performed annually. To date, the Institute has trained more than 900 physicians, clinicians and researchers, many of whom now lead academic and clinical ophthalmology centers worldwide.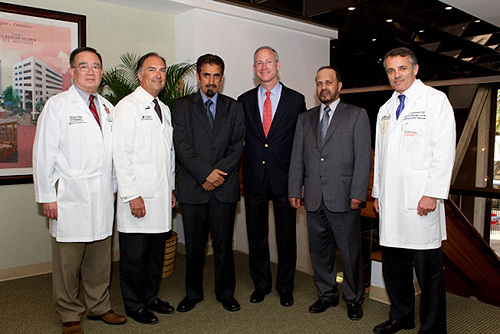 Related News