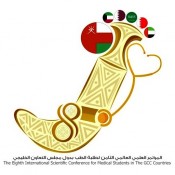 Seven female students from King Saud University's College of Medicine were recently honored by Dr. Einas Al-Eisa, Dean of KSU's Female Center for Scientific and Medical Studies, for their roles in the 8th International Scientific Conference for Medical Students in the GCC Countries.
The honored KSU students participated in various research, workshops and exhibitions at the conference, which was held January 28-February 1 at at Sultan Qaboos University (SQU) in Oman.
An exhibition display erected by the KSU College of Medicine was given the award for best conference display.
Among the honored KSU students, Rabab Al-Shahrani earned first place in  the research summary category.
Other KSU students honored at the Conference included:
Rasha Aidhah Al-Thubaiti, head of the student council and female students representative, and Rawan Nasser Al-Thaqeb, representative of the female students activities committee (The Medicine Pulse), for their role in preparing and presenting a workshop titled "Standards and concepts for choosing a medical specialty";
Rabab Tamer Al-Shahrani and Sabah Faez Al-Aklabi, for their oral presentations; and
Wihbah Ayad Al-Fares and Afnan Mohammad Alas for their poster presentations.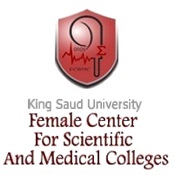 The Conference featured eight keynote presentations, 186 working papers and 52 workshops on medical topics, while some 1,200 students from 40 universities and medical colleges attended the four-day conference.
Previous International Scientific Conference for Medical Students in the GCC Countries include:
Bahrain, January 7-9, 2003. Topics: Experimental, community-oriented, biomedical and drug research.
United Arab Emirates, January 25-28, 2004. Topics: Curriculum development, neurosciences, immunopathology and allergy, molecular and genetic basis of malignancies, women health.
Kuwait, January 29-February 1, 2005. Topics: Potential clinical utility of stem cells, obesity, advances in molecular therapeutics, and contemporary issues in bioethics.
Amman, Jordan, January 21-24, 2006. Topics: Molecular genetics, neuroscience, medical oncology, endocrinology and obesity, epidemiology and community medicine), molecular genetics
Bahrain, February 6-9, 2008. Topics included: adjacent spinal nerves intermingle in the spinal dorsal horn, effect of acromesomelic dysplasia-causing mutations on natriuretic peptide B receptor trafficking to cell membrane, recurrent early pregnancy loss.
United Arab Emirates, January 18-21, 2009. Topics: Molecular biology/genetics, histopathology and pharmacology, endocrinology, cardiology and radiology, neurology and surgery.
Saudi Arabia, February 13-16, 2010. Topics: Nuclear morphometry in prognostication of breast cancer in Saudi Arabian patients, circadian pattern of sleep, and body temperature during Ramadan fasting, effect of maternal height, weight, and conditions during pregnancy on newborn size, fish oil as anti-depressant, causes and outcomes of spinal injuries in pediatrics population.
Related News