The 3rd Workshop and International Training Program on Red Palm Weevil Management is scheduled for May 19-23, 2012, at King Saud University, according to the Chair of Date Palm Research (CDPR) director Saleh A. Aldosari.  One of the five days will include a visit to date palm farms near Riyadh.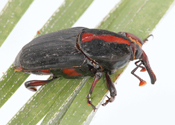 The date palm is a major agricultural crop in the Middle East's desert ecosystem, but for the past 25 years, date palms have been damaged by the invasive Rhynchophorus ferrugineus, called the red palm weevil (RPW).  After successful training programs in 2010 and 2011, the goal of this training program is to provide exposure to recent advances in management of RPW for senior level managers and agricultural engineers working in the field and dealing with the attempts to control RPW in their respective countries.
Candidates interested in this Workshop should hold at least a graduate degree and have a minimum of five years experience in their government department.  Advance application and approval is required due to limited seating; two-three candidates from each Arab country (other than Saudi Arabia) will be accommodated.
The day of the visit to the date farms will be announced at a later date.  Otherwise, training will be held from 8 a.m. to 2 p.m. each day.  The fee for the training program and materials is $1000 US, or its equivalent.  Accommodations can be arranged on request, and local transportation will be provided by the organizers.
Contacts for the training program are:  Professor Doctor Saleh A. Aldosari, Director (aldosari@ksu.edu.sa) and Professor Doctor Polana S. P. V. Vidysagar, Chair Professor (pvidyasagar@ksu.edu.sa).
To apply for the training program, please click here
Related News