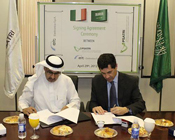 KSU signed an agreement on April 29, 2012 with Italian electronic defense equipment manufacturer Elettronica SpA, to create a strategic partnership with Prince Sultan Advanced Technologies Research Institute (PSATRI) for transfer technology and conducting basic and applied research.
Elettronica's product lines cover all aspects of electronic warfare, from single stand-alone equipment to complete sophisticated integrated systems, for naval, airborne and ground applications.
Dr. Sami Alhumaidi, executive director of PSATRI, has said that partnerships and long-term relationships with leading international companies like Elettronica SpA are key to transforming the Kingdom to a knowledge-based economy. Prior agreements have been signed with international companies BAE Systems, Boeing, Swedish SAAB, Augusta Bell, Raytheon, and Agilent Technologies, as well as major Saudi companies like Advanced Electronics Company and Alsalam Aircraft Company.
The partnerships have also led to other technical and engineering collaborations. For example, Raytheon hosted a technology workshop at KSU on 3-4 March 2012. Working with technical personnel at PSATRI, Raytheon organized two full days of briefings and interactive demonstrations on technology relating to robotics, virtual simulation, laser technology, and cyber security.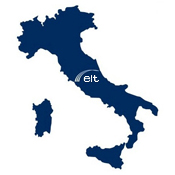 BAE Systems has also committed to help promote technical education in the Kingdom. In October 2011 the company pledged to sponsor thirty engineering students at KSU during their university education, and formed a "University Collaboration, Research and Development Steering Board" to work with universities in KSA to ensure that students develop the capabilities to succeed in the labor market.
PSATRI was a technical co-sponsor of the 8th International Conference on High-Capacity Optical Networks and Emerging Technologies – HONET '11 -- held at KSU on 19-21 December 2011. Hosted and organized by KSU and the University of North Carolina at Charlotte, USA, the event brought together professionals and practitioners from academia, industry, and governments from all over the world.
PSATRI is the result of a partnership agreement reached in 2007 between KSU and the Saudi Air Force to establish a specialized center to serve the Air Force's technological needs. The institute is also able to provide technical and research support for all sectors of the Saudi Ministry of Defense, and provides technical training for students from KSU and other Saudi universities. A cornerstone-laying ceremony was held in February 2011 for the new PSATRI center, located in the Riyadh Techno Valley facility on the KSU campus. PSATRI is housed in the KSU College of Engineering until construction on the new complex is completed.
PSATRI includes several specialized research laboratories:
Microwave Research Lab
Concerned with the development of civilian and military technologies in the field of radio and radar, modern communication equipments, navigation and electronic warfare techniques.
Intelligent Vehicles and Systems Research Lab
Concerned with the development of intelligent systems capable of carrying out specific tasks, without human intervention such as unmanned aircrafts and smart vehicles.
Communication and Network Research Lab
Concerned with the study, design and development of modern communication systems and networks.
Electromagnetic Imaging Research Lab
Concerned with the development of imaging electromagnetic field systems, in remote sensing applications, and studies the impact of non-ionizing radiation on the human body. It also studies the optimization of modern communication systems to reduce the levels of radiation
Microsystems and Nanoelectronics Lab
Concerned with advanced research in micro/nano sensors, devices and systems.
Industrial Tomography Research Lab
Concerned with research in the field of tomography imaging of industrial processes, particularly related to fluid flow, and the three-dimensional images of mixtures.
Related News: