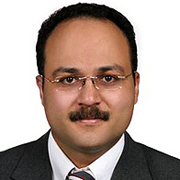 On Sunday, May 13, King Saud University's Chair of Advanced Proteomics and Cytomics Research is welcoming Dr. Hesham A. El Ensashy, who will present a lecture entitled The Role of IBD in the growth of biotechnology industries as one of the engines of Malaysia's knowledge-based economy. The lecture will take place at 10-11 AM in the College of Science building (seminar room 2B 155), and live-telecast to the University's women's section at the Malaz campus Research Center Hall.
Dr. El Ensashy is the Vice-Director of the University of Technology, Malaysia's Institute of Bioproduct Development (IBD). The Economist has explained industrial biotechnology, often called "white biotechnology", as involving engineering biological molecules and microbes with desirable new properties. What is different is how they are then used: to replace chemical processes with biological ones. Whether this is to produce chemicals for other processes or to create products such as biopolymers with new properties, there is huge scope to harness biology to accomplish what previously needed big, dirty chemical factories, but in cleaner and greener ways.
Professor El Ensashy, who has established a vast portfolio in the industry, has been published into more than 60 peer-reviewed international journals and books, sat on various advisory boards and served as a scientific and bio-business consultant companies in Egypt, Belgium, Greece, the United States, China and Malaysia in technology transfer, technology implementation and technology development. He will be speaking in the lone Gulf Cooperation Country (GCC) nation that requires mandatory labeling of products derived from biotechnology. In 2001, the Saudi government implemented its biotech labeling decree for processed foodstuffs. The decree requires that product that contains more than .09 percent genetically-engineered vegetable or plant ingredients. In 2004, the country implemented a similar bio-tech labeling requirement on animal food, fruit and vegetables while banning imports of genetically engineered seeds. Dr. El Ensashy's Institute of Bioproduct Development will be hosting Wellness 2012: Wellness for Health and Productivity on June 20-21 in Kuala Lumpur, and KSU's Chair of Advanced Proteomics and Cytomics Research is one of the program's chief collaborators. Themes to be addressed in the event include:
Natural Herbal Products
Natural Herbal Products contain active ingredients, aerial or underground parts of plant or other plant materials, or combination thereof, whether in crude state or as plant preparations. Herbal medicines may contain excipients in addition to the active ingredients. Such plant products usually have specific therapeutic claims. They are usually intended for use in diagnosis, alleviation, cure or treatment of disease, promotion of health, or are intended to affect or modify the structure or any function of the body of man or animal.
Food and Nutraceuticals
Nutraceuticals refer to phytochemicals or active compounds derived from animals, fungi, or insects proven to be effective natural health product, useful in preventing or treating illness, or optimizing body function.
Functional Food
Functional food is any healthy food claimed to have a health-promoting or disease-preventing property beyond the basic function nutrition. The general category of functional foods includes processed food or foods fortified with health-promoting additives, like vitamin-enriched products. Biologically active components in functional food can play a role in promoting good health or reducing the risk of disease.
Environment Wellness
Environmental Wellness as part of an overall wellness plan has a huge impact on emotional, physical and spiritual health. Environmental well-being involves living in harmony with the Earth by understanding the impact on the natural world and personal surroundings. Environment management system, environment related design, life-cycle assessment, extended product responsibility, industrial ecology, and related program and techniques are producing innovative and cost- effective approaches to environment performance improvement.
Biofactories, Biopharmaceutical & Bioprocessing
Bioprocessing is considered as one of the oldest business in the world, where microbes are widely used for the production of bread, vinegar and different types of fermented food in almost all cultures all over the world. Traditionally, microbial cells were the main biofactory for the bioprocessing and production of bioactive metabolites. With better understanding of biochemistry and molecular biology technique new types of biofactories (recombinant biofactories) were developed. Beside microbial cells, human, animal and plant cells are widely used for the production of bioactive metabolites in small and large scale. However, new generation of bioactive metabolites were also developed with the extensive knowledge and basic science of stem cells and gene therapy. Nowadays, living cells from almost all groups are widely used either for the production of bioactive metabolites and biopharmaceuticals or as living cells in the novel applications of tissue engineering, stem cells and gene therapy.
Biomolecules Discovery
Nature is considered as the unlimited mine for molecules for a wide range of applications. For centuries, molecules derived from animal, plant and microbial cells are the main ingredients in health and wellness products. However, it is assumed that only a small fraction of biomolecules have been discovered so far.
Cosmeceuticals
Cosmeceuticals represent functional cosmetics and skincare products. Some of which are derived from natural resources such as herbs and enzymes.
Wellness Business
services focused on the promotion or maintenance of good health. It emphasises on a food, nutraceutical, systematized exercise and fitness approach for general health including a trainings and education programs for concerning proper nutrition, stress management, weight control, cardiopulmonary resuscitation, and prenatal care to promote good health.
Related News