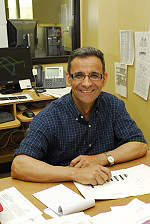 Dr. Ali Al-Ghamdi, Vice Rector for Graduate Studies and Scientific Research at King Saud University, recently welcomed Dr. Mahmoud Rouabhia of the Université Laval in Canada upon his visit to KSU's Genome Research Chair (GRC).
Dr. Rouabhia, a professor of microbiology, immunology, dental diseases and pathogenicity, met with GRC faculty including supervisor Dr. Mohammed Alanazi, Chair researcher Dr. Abdelhabib Semlali and Chair researcher and project adviser Abdullah Al-Amri.
Dr. Rouabhia also delivered several lectures in the Biochemistry Department. Among the topics were cellular and molecular mechanisms that resist fungal infection; cancers; the life of a cell; human cell engineering; and the adaptation of the cell to various human tissues.
Dr. Rouabhia was shown the Chair's facilities, including labs, equipment and research apparatus geared to genome studies, the investigation of cancer in humans and gene mutations, which may trigger cancer.
Dr. Rouabhia is a respected authority in immunology and cell biology, and his research has been funded by the National Institutes of Health (NIH) in the United States and several Canadian funding agencies.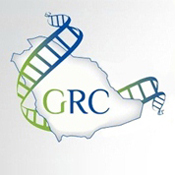 A former dean of the College of Dentistry at Laval, he is a member of Université Laval's Groupe de recherche en écologie buccale (Oral Ecology Research Group). He has received numerous prizes for his research, especially in the study of immunity-related genomes. He is a member of the funding committee of Quebec's Ministry of Education and Teaching.
Established in 2010, the Genome Research Chair (GRC) is a King Saud University initiative created to allow Saudi Arabia to be a leader in genomics research. The GRC focuses on establishing key core facilities and the development of multidisciplinary research programs that provide leading-edge research in molecular and cell biology, biochemistry and bioinformatics.
Related News