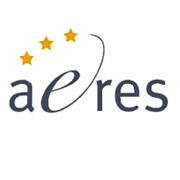 On Saturday, May 12, King Saud University's Arabic Language Institute (ALI) received a team of officials from the French  organization Evaluation Agency for Research and Higher Education (AERES) that included Alain Menand, Director For Higher Education Programmes and Awards,  and Project Manager Elsa Bedos.
Dean of the Arabic Language Institute Dr. Saad Al-Kahtani received the French team, which includes international experts in evaluation and academic accreditation.
The visit started with a meeting with Dean Al-Kahtani who stated that KSU is committed to getting academic accreditation for all its projects, and achieving international status as a leader in teaching Arabic to speakers of other languages (TASOL).
According to the accreditation schedule, AERES experts will review ALI's language programs, as well as their professional programs for teacher training. The team will also meet with division heads, faculty, staff and students of the Institute.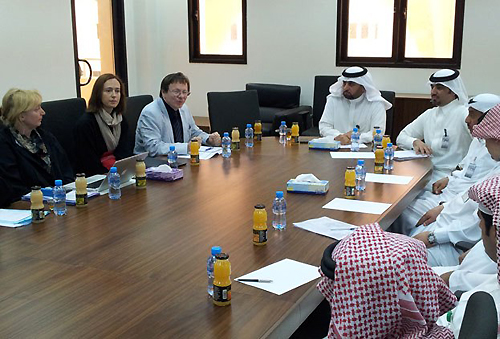 Dean Al-Kahtani emphasized that the ALI has been preparing the last two years for this visit. He said first there was a mock visit by AERES in February, during which the team inspected the infrastructure of the Institute's new building and academic programs.
In committee meetings with ALI administrators and faculty, AERES detailed and explained their procedures and methods used to assess organizations.
AERES provided both oral and written remarks, which will be released after the Institute submits its self-assessment report for all its projects. After reviewing AERES accreditation standards and suggestions, the ALI will address all the needed changes.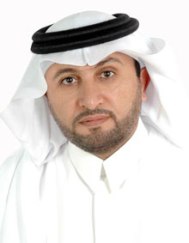 It is noteworthy that past efforts to meet accreditation criteria show a clear relationship with improved research, students' academic performance and increased community involvement with ALI services. Such services have also bolstered the Institute's relationship with local, national and international partners dealing with the field of teaching and learning Arabic.
Dean Al-Kahtani closed the meeting with the French visitors by warmly thanking KSU Rector Abdullah Al-Othman, as well as the Vice Rectorship for Quality and Development, for their unyielding support for the ALI. He also thanked all members of the Institute for their tireless efforts in preparing for the AERES visit.
Founded in 2007, AERES has swiftly established European credibility as an evaluation body. Today, AERES is offering its expert services internationally:
by calling on foreign experts with diverse backgrounds, chosen depending on what is being evaluated;
by projecting itself on the international stage and opening up to other evaluation cultures;
by working with other evaluation stakeholders worldwide;
by developing brainstorming and international competencies within the Agency.
Related News