Dr. Fahad N. Barakah, dean of King Saud University's College of Food and Agricultural Sciences, presided over the concluding session of the Workshop and Third International Training Program on Red Palm Weevil Management, held May 19-23, 2012.
 The workshop and training program were organized by KSU's Chair of Date Palm Research (CDPR), formerly known as the Red Palm Weevil Research Chair (RPWRC).
 KSU Rector Abdullah Al-Othman opened the event, which drew 44 participants and included experts from Spain; the United Arab Emirates; Bahrain; Oman; and Saudi universities, including KSU and King Faisal University, represented by its Center of Palms And Dates Research, and the King Abdullah University of Science and Technology (KAUST). Other participants came from the Saudi Ministry of Agriculture with experts from all over the Kingdom. Representatives of Riyadh, the Eastern Province and Makkah also took part, along with experts from KSU's Forestation Administration and employees of KSU's College of Food and Agricultural Sciences.
 Topics of the 21 lectures on red palm weevil management included studies and research carried out in northeastern Spain on the species of beetle; the program to combat the red palm weevil in Saudi Arabia; and the status of red palm weevil research.
 The event also included a daylong field trip May 22 to Al-Kharj Province. The trip, organized by the Agriculture Directorate in Al-Kharj Province in cooperation with the Agriculture Office in Al-Hayathem city, included visits to several model palm tree farms, a date producer and a palm nursery company.
 Afterward, the visitors were guests at a luncheon hosted by the Al-Hayathem center's chairman, Khaled bin Mohammed bin Hasher. At it, Date Palm Research Chair supervisor Dr. Saleh A. Aldosari praised the cooperation between the Chair and the Agriculture Directorate in Al-Kharj Province, especially in Al-Hayathem city, where the Chair is conducting several research projects. He also thanked Mr. Hasher and Dr. Abdullah bin Abdulaziz Al-Suayass, Director General of Agriculture in Al-Kharj Province, for their support of the Chair's activities.
 At the conclusion of the workshop, there was general consensus that events focused on controlling the red palm weevil should be held more frequently. Participants from the Saudi Ministry of Agriculture, as well as from municipalities and other Gulf countries, voiced a willingness to participate in more events about date palms and thanked the Chair for its efforts in eradicating the beetle.
 The work of KSU's Date Palm Research Chair began in 2009, and it was inaugurated on January 16, 2010. Since then, it has organized training programs on integrated pest management of the red palm weevil for the benefit of agricultural engineers working in the Ministry of Agriculture.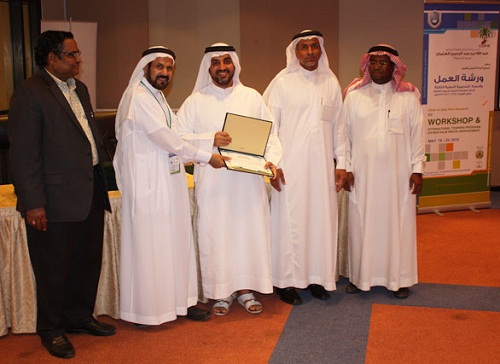 Related News