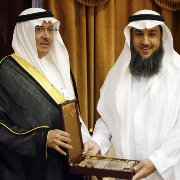 King Saud University Rector Badran Al-Omar and Prince Faisal Bin Abdulah Bin Abdulaziz Al Saud, chairman of the Saudi Red Crescent Authority (SRCA), on Wednesday, Sept. 19, 2012, signed an agreement to strengthen cooperation between the two organizations in various fields in fulfillment of their mission to help build a knowledge-based society.
The agreement, which will be valid for five years, was signed on behalf of KSU by its Prince Sultan bin Abdulaziz College of Emergency Medical Services.
Areas of cooperation will include educational processes, development of policies, rules and regulations for service provision, support of scientific research, exchange of expertise and knowledge, and making data available for research and scientific publishing.
The agreement also aims to better educate employees of both establishments to better contribute to providing emergency medical services.
A team consisting of members from the SRCA and KSU will be formed to expedite reciprocal contributions.
Prince Faisal visited the emergency evacuation helicopter landing area at King Khalid University Hospital, where he was received by Dean of Medicine Dr. Mubarak Al-Faran and other officials. While there, the Prince received an overview of the helicopter landing area by Dr. Zuhair Assiri, head of the University Hospitals' emergency department.
The Saudi Red Crescent Society, founded in 1963, provides emergency medical services to areas of Saudi Arabia.
Related News