Dr. Hisham S. Aljadhey of King Saud University has been selected as Associate Editor of the Pharmacoepidemiology and Drug Safety (PDS), the official journal of the International Society for Pharmacoepidemiology, headquartered in Bethesda, Maryland.
The journal is considered among the most prestigious academic publications in the field of medication safety and is also indexed with the Institute for Scientific Information (ISI).

Dr. Aljadhey, Supervisor of KSU's Medication Safety Research Chair in the College of Pharmacy and also Vice Dean of the College for Academic Affairs, learned of his appointment in an official letter from the journal. He stated that the contribution of KSU faculty to international journals is a testament to their role, and the role of KSU, in developing the sciences. He thanked the Ministry of Higher Education and KSU Rector Dr. Badran A. Al-Omar for their support, and for establishing an environment encouraging research, which has greatly boosted the confidence of international journals in KSU's faculty.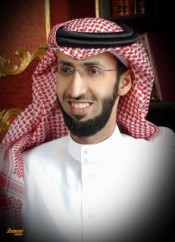 Dr. Aljadhey earned his baccalaureate from KSU, his Doctor of Pharmacy from Purdue University in West Lafayette, Indiana, and he completed a residency with emphasis in medication safety/ambulatory care at Winchester Medical Center, Winchester, Virginia. In 2008, he earned his Doctor of Philosophy from the University of North Carolina, Chapel Hill, North Carolina.
Aside from Pharmacoepidemiology and medication safety, Dr. Aljadhey's other research interests include prevention of medication errors, medication adherence, and applying pharmacy interventions to improve the appropriate use of medications. He serves on the Pharmacovigilance Committee at the Saudi Food and Drug Authority, and also teaches didactic courses and precept students in an ambulatory clinic at King Khalid University Hospital.
The PDS journal was first published in January, 1992, and provides an international forum for the communication and evaluation of data, methods and opinion in the discipline of Pharmacoepidemiology, defined as the study of the utilization and effects of drugs in large numbers of people. The journal publishes peer-reviewed reports on original research, invited reviews, and a variety of guest editorials and articles regarding the scientific, medical, statistical, legal, and economic aspects of Pharmacoepidemiology and post-marketing surveillance of drug safety.
Particular areas of interest for the journal include:
Design, results, analysis and interpretation of post-marketing surveillance and other studies looking at specific drugs, populations and outcomes;
Methods for detection and evaluation of drug-associated adverse events;
Assessments of risk and benefit in drug therapy;
Patterns of drug utilization;
Relationships between Pharmacoepidemiology and the formulation and interpretation of regulatory guidelines; and
Risk management plans and programs relating to pharmaceuticals, biologics and medical devices.
Related News