King Saud University's Prince Mutaib Chair for Biomarkers on Osteoporosis (PMCO) participated in an osteoporosis awareness campaign in October, 2012.  The campaign, titled "Protect Your Bones and They'll Protect You," was presented in cooperation with the BRP and the Saudi Osteoporosis Society (SOS).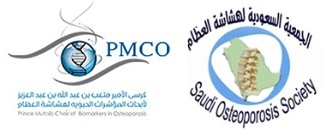 This awareness campaign was held to mark World Osteoporosis Day which is observed annually on October 20 and launches a year-long campaign dedicated to raising global awareness of the preventions, diagnosis and treatment of osteoporosis and metabolic bone disease.
Osteoporosis and metabolic bone disease are diseases of bones that lead to an increased risk of fracture due to a reduction of the bone mineral density, bone microarchitecture deterioration, and an alteration of the amount and variety of proteins in the bone.  Risks can be reduced with lifestyle changes and sometimes medication, such as increasing calcium, vitamin D, and bisphosphonates intake.
Twenty-two students from KSU's Community Service Committee in the Biochemistry Department of the College of Sciences participated in this campaign, which included displays in malls, markets and schools.  Included was the distribution of more than 6000 flyers with information about osteoporosis, its cause, precautions, treatment, and factors leading to its increase and its incidence in the Kingdom.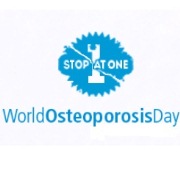 The campaign also included making bone density measurements for interested parties, using a computer program.  Gifts were also distributed to individuals who visited the various displays.
World Osteoporosis Day is organized by the International Osteoporosis Foundation (IOF) and involves campaigns by national osteoporosis patient societies from around the world, with activities in over 90 countries.  It was originally launched on October 20, 1996, by Britain's National Osteoporosis Society.
Three key messages of World Osteoporosis Day are:
Fragility fractures are no accident: Each year millions of mostly older adults will suffer a devastating hip fracture caused by a simple fall from standing height. Millions more will suffer fractures of the spine, wrist, shoulder and pelvis. These fractures are no accident! It is likely that the underlying cause is osteoporosis.
Fractures are warning signs: One fracture leads to another A person who has suffered an osteoporotic fracture is twice as likely to suffer a fracture in the future if no diagnosis and treatment for osteoporosis has been provided. Approximately half of all people who have had one osteoporotic fracture will have another, with the risk of new fractures increasing exponentially after each fracture.  In addition, one in four women who have a new vertebral fracture will fracture again within one year.
Over 50 and had a fracture? Get tested - get treated If you are 50 years of age or older and have had a fracture you should ask your doctor for a clinical assessment that will include a bone mineral density test.
Related News