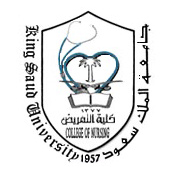 King Saud University's Nursing Club of the College of Nursing, recently inaugurated its new "I Am A Nurse" program under the patronage of Dr. Khalid K. Alharbi, Dean of the College of Nursing, and Dr. Tareq Al-Rayes, Dean of Student Affairs. The program
This event, one of many planned by the Club for this semester, included an exhibition about the College's various departments.  Kicking off the activity were Club President Nayef Hamdi Alanzi and Vice President Haya Abdullah Alglovy, who gave brief accounts about the origin of this activity and the accompanying exhibition. Other students then described the course curricula of each department.
To demonstrate some of their skills, Club members conducted a series of medical tests on Deans Alharbi and Al-Rayes and Vice Dean Al-Qurainy, including taking blood pressure, checking for diabetes, and doing a body mass index assessment.  After that, President Alanzi bestowed honorary club membership on Dean Al-Rayes and Vice Dean Al-Qurainy.  Dean Alharbi previously received honorary club membership.
President Alanzi also bestowed honorary membership on behalf of the Club on Mr. Abdulaziz Alanzan while thanking him for his efforts and cooperation with the new Club administration and his concern for the Club's needs.
Dean Alharbi described the students as the future of the nursing profession, and he thanked Supervisor Aljedai and President Alanzi and all club members for their efforts in promoting this profession.  Dean
Al-Rayes also expressed thanks to the supervisor, president, all members for their efforts in highlighting the "proud profession of nursing."
Vice Dean Al-Qurainy cited the effort and team spirit of club members and encouraged the students to maintain their standards of success and distinction.  He also thanked them for their strong efforts and for being being united in societal action.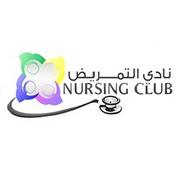 After the opening ceremonies, crowds continued touring the exhibition. Saudi TV Channel 1 was on hand, interviewing both club members and visitors.  The exhibition included a children's play area, as well as a hospitality area for visitors.
Making separate surprise visits were noted entertainers Awad Al-Abdullah and Mohammad Al-Kanhal.  Al-Abdullah is a noted supporter of social and cultural action and a staunch backer of the nursing profession.  Both were given tours of the exhibition, plus Al-Abdullah was given a medical checkup by club members and then received a ceremonial shield from Supervisor Aljedai.  Al-Kanhal toured every part of the exhibition and thanked the club members for their efforts, calling them the pride of the nation.
The large turnout for this activity and the interaction of the visitors with club members regarding the nursing profession was an indication of the club's success and its plan for the future.  Members were able to demonstrate real-life abilities when asked about things such as low blood pressure and incidents of choking.  Visitors were also able to obtain much medical data along with many flyers and brochures.
In addition to correspondents from Saudi TV Channel 1, the event was attended by various media outlets and health care organization representatives.
At the close of the event, Club Supervisor Dr. Aljedai thanked the team that organized the event and asked that future activities serve the society as well as this one did, giving credence to the Club's motto, "Towards A Promising Nursing Future."
Also present for the inauguration was Vice Dean for Student Affairs, Dr. Fahad Al-Qurainy, and Dr. Abdullah Aljedai, Club Supervisor.
Related News