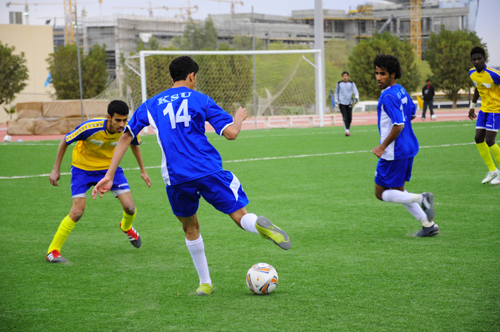 This month, King Saud University's varsity football squad faced a tenacious Najran University team,in a match that ended in a 1-1 draw.
Despite constant pressure on the Najran University keeper, KSU center Abdullah Aldosari and attacker Abdulmajid Al-Jarwan were unable to score, yet attacker Abdullah Al-Hbeishi gave KSU an early lead with a goal at the 44 minute mark. Najran University, however, contained KSU through the second half, and with eight minutes left to play, Najran University's Khaled Saleh scored the equalizer.
The match was held under the supervision of the Saudi Universities Sports Federation, in the presence of Dr. Abulaziz bin Khalid Al-Khalid, General Supervisor of Saudi Sports Affairs.
KSU coach Abdullah Al-Dhaayan expressed his satisfaction with his team's performance, while manager Mohamad Al-Shehri observed, "What matters is that our standards are rising, and this is what we want. We have to double our efforts because we have challenges ahead and everyone should be working hard to execute the coach's plans in order to fulfill the team's aspirations."
Related News