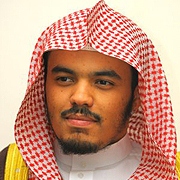 Sheikh Yaser Bin Rashed Aldosry was recently received by the Preparatory Year Deanship in a session titled "A New Birth." The meeting was organized by the Deanship's "Be Positive Club" and organized for students who performed this year's Hajj.
Sheikh Aldosry is globally known for his recitations of the Holy Quran, and holds a Masters in Holy Quran and its Sciences. He is the Secretary General of Prince Sultan Association for Memorizing the Holy Quran, and is a member of the Saudi Juristic and Scientific Association. He is also the Imam of Eldikhel Mosque in Riyadh and Supervisor of its activities.
The Sheikh has also participated in preparing Islamic Culture Curricula in the Ministry of Defense, supervising Intellectual Security courses. He has delivered many lectures, scientific studies and guiding speeches in Saudi governmental facilities.  Not only has he lectured all over the Kingdom, but also in Egypt, the Czech Republic, Switzerland, Turkey, Malaysia, and other Gulf countries.
During his lecture, the Sheikh answered the studnet's questions, some of which were:
-      How does a Muslim maintain obedience?
-      How does a Muslim go in the path of integrity?
-      How does a Muslim maintain his new birth?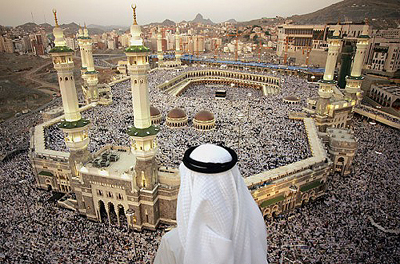 Using accurate scientific methodology to convey his message, he employed the thinking simulation method, triggering ideas in listeners' minds to let them reach correct conclusions by themselves on what is right. He also presented advice and suggestions to the students to help them enhance their academic careers.
Dr. Abdualelah M. Al-Mayouf, Vice Dean of the Preparatory Year Deanship, cited the importance of such meetings and religious lectures to help raise the awareness of ethics for the students. He stated that the Deanship is proceeding with a new plan this year, which is to focus on raising the ethical awareness of students.  He thanked the Sheikh and also the organizers of this meeting.
Sultan Al-Dhoueihi, student team leader of "Be Positive", thanked the Sheikh and also the Deanship on behalf of the students.
The Preparatory Year radio station met with Sheikh Aldosry, briefing him on the nature of its work, and recording an interview to be broadcast later. The Media Club also interviewed the Sheikh and several important topics were discussed.
Established in 2007, the Preparatory Year Deanship offers new students quality programs to endow them with high ethical standards, and to equip them with the skills needed for success in their academic and professional careers, emphasizing self-development and creativity.
Related News