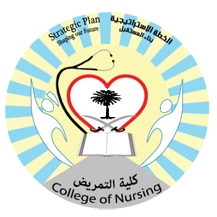 The College of Nursing at King Saud University held its second Strategic Plan Team workshop in October, with the encouragement and support of both Dr. Khalid K. Alharbi, Dean of Nursing, and Dr. Mohammed Ali M. Marie, Vice Dean for Development and Quality. This workshop was primarily for Strategic Plan Project Managers, the workshop's resident committee, and the strategic plan team, headed by Dr. Hanan Abdullah Ezzat Abbas.
Dean Alharbi praised the team's efforts, stressing the importance of cooperation and the collective action between project managers and their teams to complete the projects of the plan to eventually meet the College's vision and objectives.
Next, the team's moderator welcomed those in attendance and gave a brief summary of the Strategic Plan's objectives, initiatives, indicators and projects. She also discussed the Plan's implementation and reviewed the duties and requirements of the Plan's administration.  Additionally, she listed details of the Plan's inputs, outputs, registers and time tables, along with the inherent risks and the criteria for success, offering clear examples.
Dr. Fatma Mostafa Baddar supported the moderator's comments, and explained how time tables should be used to assure completion of assigned missions.
The driving force for designing a strategic plan for the College is to improve the nursing profession in Saudi Arabia, improve the College's academic and developmental services in nursing education, and also to work toward KSU's 2030 vision and goals. The College's Strategic Plan is intended to be dynamic, using a continuous cycle of planning, implementation, assessment, and refinement to facilitate continuous improvement.
Related News