Earlier this year, Dr. Ibrahim Al-Harkan, who leads the Deanship of Graduate Studies (DGS), met with Charles Griffin of America-Middle East Educational and Training Services (AMIDEAST) to discuss potential cooperation between the two organizations.
AMIDEAST has offices in 13 Middle Eastern Countries including the Kingdom where its headquarters are located in Riyadh's Diplomatic Quarter. The organization various services such as language training for the region's English language workforce; guidance for students interested in academic and cultural exchanges; preparation courses for standardized English tests, institutional development and capacity building; and the organization of college fairs in the Middle East.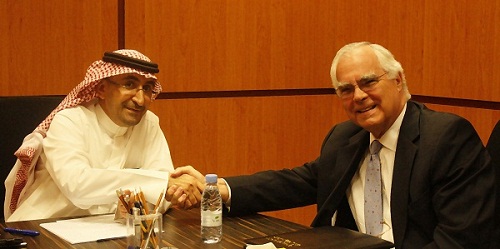 Cooperation between KSU and AMIDEAST would benefit language learners from KSU and the Riyadh community as a whole, providing them added testing resources, courses and services for people wishing to take standardized tests such as TOEFL. TOEIC, IELTS, GRE and other tests.
The demand for academic test centers in the Kingdom has rapidly outgrown the supply. For example, when Saudi and expatriate high school students living in the Kingdom wish to take the Scholastic Aptitude Test (SAT), many cannot find a test center with openings. It is not uncommon, therefore, that a student in Riyadh must travel to Jeddah, Dammam, Bahrain or Dubai to take the SAT's.

In 2011, AMIDEAST provided English language services to more than 66,800 students and professionals, supported scholarship and exchange programs for more than 1,600 individuals, supplied information on international studies to approximately 175,000 individuals, administered more than 125 computer-, paper- and internet-based tests and empowered more than 15,400 young adults, men and women, through special programs.
The Deanship of Graduate Studies was established in 1973 to specifically address the needs of the present and prospective graduate population. In 1978, it became the College of Graduate Studies and in 1997 the name was amended to the Deanship of Graduate Studies. AMIDEAST is a leading American non-profit organization engaged in international education, training and development activities in the Middle East and North Africa.
Related News