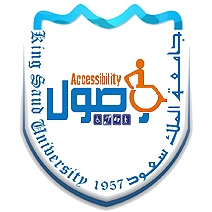 As part of its continuous effort to provide excellent educational services and to also further develop electronic communications within the campus, King Saud University has begun creation of a website development project for information about and for People with Special Needs (PwSN), inaugurated by Vice President Abdulaziz Al-Ruwais.
Also present at the inauguration were: Vice Rector  for Projects Dr. Musaad Al-Mosaind;  Dr. Ibrahim Al Hano; project Assistant Executive Director Nasser bin Saad Al-Ajami; and Advisor for building engineering access Dr. Sameh Mustafa.
The project consists of a website, accessibility.ksu.edu.sa, where information about the project and news related to people with special needs at KSU exists.  Also included are links to communicate with project members by email and social networks, as well as the Wousoul (accessibility) service which provides an e-link to allow students, faculty and staff to report any architectural or electronic obstacles hindering access to the services and facilities of the university.  This can also be used to provide project members with suggestions to improve KSU's status as a user-friendly campus for the disabled.
This project ties into the 4th National Symposium on Informatics Technologies for People with Special Needs (PwSN) which is scheduled for April 23-25, 2013, at KSU.

The Symposium's primary objective will be to showcase the latest research in computers and information for people with special needs, including such disabilities as impaired or lack of hearing, sight, and other sensory impairments, motor impairments, memory and learning problems, cognitive impairments, and individuals with multiple impairments.
Keynote speaker for the Symposium will be Professor Mohamed Jemni of the University of Tunis in Tunisia, and Shadi Abou-Zahra of the World Wide Web Consortium (W3C).  They will address the role of scientific research to improve e-accessibility of people with disabilities and making accessibility a core part of business.
Related News