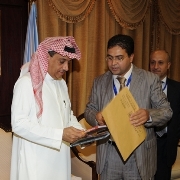 The Saudi Association for Media and Communication (SAMC) held its Sixth Annual Media Forum at King Saud University December 2-4, 2012.  The forum was titled, "New Media:  Theoretical & Practical Challenges," and participants were greeted by KSU Rector Badran Al-Omar and other University officials on Monday, December 3.
Accompanying the delegation was Dr. Ali Alkarni, Chairman of the Board of Directors for SAMC, an Associate Professor in the Mass Communications Department in the College of Arts, and Editor-in-Chief of the KSU newspaper, Risalat Al-Jamiah; and Khalid bin Hamd Al Malik, Editor-in-Chief of the Saudi newspaper Al Jazirah.  They, along with several other members of the Association, visited the College of Arts and the Risalat Al-Jamiah offices.

The purpose of the forum was to establish studies and research into how the social networking media is now involved in communications.  Objectives included learning the reality of social media units; discussing the relationship between various social media and political, cultural, and social reshuffles; exploring theoretical and practical challenges in researching social media; studying the legal perspectives of the various social media; forecasting new roles social media may play in the future; and proposing a forward-looking approach into the social media industry.
Some of the topics covered were:  satisfaction from using various social media; political repercussions of using social media; the social and cultural roles of using social networking media, along with many others.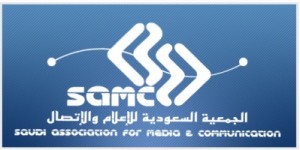 The Saudi Association for Media and Communication is a non-profit association of journalism and mass communication educators, students, and media professionals.  Honorary President of the organization is Prince Naif bin Abdulaziz Al-Saud.
The vision of SAMC is to be the pioneering academic association in media and communication nationally and in the pan-Arab world.  Its mission is to draft elaborate scientific researching plans, establish customized programs, conduct training sessions, offer academic consultation, and cement cooperation with media organizations to develop professional media practices.
Related News