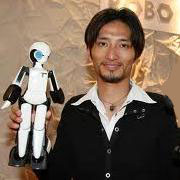 Robot creator Dr. Tomotaka Takahachi, CEO of RoboGarage and a professor at the University of Tokyo (Japan), will give a lecture and demonstration on "The Creation of a New Robot Era" on Wednesday, December 12, at King Saud University.
The talk will be from 10 a.m. to noon in Hall 56A of the College of Computer and Information Systems and is participation with KSU's Innovation Center and the Advanced Lab of Intelligent System Research (ALISR).
Dr. Takahashi's presentation will cover the following topics:
What is a robot creator?
Specifications of the robot Chroino
The RoboGarage company
Making robots without design drawings
The difference between robots in the West and robots in Japan
The robot market
ALISR is a research lab established in 2009 in the College of Computer and Information Sciences and is under the directorship of Dr. Naif Alajlan.
The main goal of ALISR is to foster research and development of innovative intelligent systems that contribute to the achievement of goals of the National Plan of Science and Technology of Saudi Arabia and the building of a knowledge-based economy.
The Innovation Center was established in 2008.
Related News