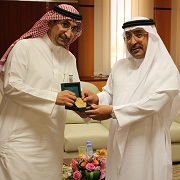 King Saud University's Vice Rector for Graduate Studies and Scientific Research, Dr. Ahmed S. Al-Aameri, recently visited the Deanship of Graduate Studies to be updated about the department.  He was greeted by Dr. Ibrahim Al-Harkan, Dean of Graduate Studies; Dr. Ali I. Hobani, Vice Dean for Administrative Affairs; Dr. Mageb Al-Adwani, Executive Director of the Parallel Education Program; and various unit directors in the Deanship.
Dean Al-Harkan greeted the Vice Rector, briefing him in detail about the Deanship and the role it serves and fulfills for both male and female graduate students.
Dr. Hobani then spoke, also discussing the Deanship's role for graduate students, along with outlining the organizational structure and lists.  He then covered the academic regulations and also the Deanship's two electronic systems, the e-portal and the website.  Dr. Hobani discussed the Deanship's procedural system, describing how an item goes from paper transaction to e-transaction.  He also outlined what is offered in the Parallel Education System, which is offered in the evening.
Dr. Saada M. Alorf, Vice Dean of Graduate Studies for female students at the Olaysha Center for Girls, then briefed the Vice Rector on the Olaysha Campus' efforts to cooperate with the Deanship to serve female graduate students.  She also talked about the various departments and administrations of the Campus.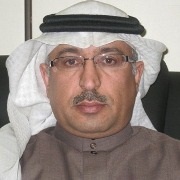 The Vice Rector was then given a briefing from the administrator of each of the 21units within the Deanship, including:  Admissions, Student Affairs, Information and Public Relations, Computer and Information Technology, Administrative and Financial Affairs, Development and Quality, Graduates, Curricula, Parallel Education, Rewards and Merit, Scholarship and Researchers, Documentation and Archiving, Plans and Academic Schedules, Academic Regulations, Statements and Statistics, Skills Development and Training, Financial and Administrative Affairs of Female Center for Scientific  and Medical Colleges and Olaysha female campuses, Student Affairs at Al-Malaz and Olaysha, and lastly, International Planning and Cooperation.
Vice Rector Al-Aameri then addressed the group, calling on everyone to double their efforts to develop the Deanship and thereby raise the academic standards of KSU's graduate students.  He also encouraged everyone to work to improve the curricula to meet the aspirations of the ambitious University.  Before the Vice Rector's departure, Dean Al-Harkan presented him with a special gift to mark the significance of the occasion.
Related News