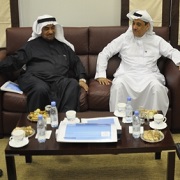 King Saud University Rector Badran Al-Omar, and also chairman of the KSU Endowment Funding Committee, recently met with Sheikh Abdullah bin Ali Al-Hulayl, representative of Sheikh Abdurrahman Al-Hulayl.  Sheikh Abdurrahman recently donated the financing required for the endowment to build a new tower at KSU that will bear his name.
Abdulaziz Al-Ruwais, KSU vice president and Dr. Abdulhamid Al-Abduljabbar, secretary of the Endowment Program, were also present to receive Sheikh Abdullah.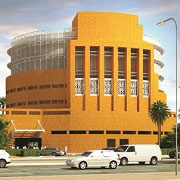 Rector Al-Omar also extended his  thanks to  Sheikh Abdurrahman through Sheikh Abdullah for the generous gift from Sheikh Abdurrahman.  After discussing the project development and the progress of the work to date,  the officials visited the  construction site.  While at the site, the group met with project managers and engineers who offered detailed explanations and reports on the project's progress.
Sheikh Abdullah thanked his hosts for the invitation to visit and expressed his appreciation for their  warm hospitality.  Secretary General Al-Abduljabbar expressed gratitude for both the visit and the donation, adding that the Endowment committee plans to maintain close contact with all supporters of the Endowment.
Related News