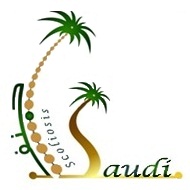 King Saud University's Scoliosis Research Chair has pioneered the use of a groundbreaking procedure to treat scoliosis, a debilitating spinal condition that mainly afflicts children and adolescents.
A team led by Dr. Abdulmonem Alsiddiky, supervisor of KSU's Scoliosis Research Chair and professor of orthopedic and spine surgery in KSU's College of Medicine. This is the second time a KSU Scoliosis Research Chair team has  performed the revolutionary surgery at King Khalid University Hospital (KKUH).
The surgery has never been performed anywhere else in the Middle East.
Dr. Alsiddiky said the surgery, using MAGEC rods, can be used in specific cases on patients suffering from spinal deformity and distortion. The rods are surgically implanted to straighten and redress the spine. They are affixed directly to the spine and located under the muscles so that they do not protrude from the body.
He explained that the rods can be extended magnetically by remote control, making additional surgeries to extend them unnecessary. The spine will then grow normally and remain straight. The surgery takes about three hours, and the patient is generally discharged from the hospital within three days.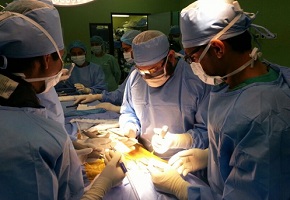 This surgery requires precise and accurate knowledge of the type of spine curvature, location, ratio and suitability of the treatment for the patient and the problem.
The MAGEC rods procedure is considered a very precise, progressive technique and previously had been performed only by specialized teams in advanced Western countries such as the United States, United Kingdom and Canada.
Scoliosis is an abnormal curvature of the spine, which, if left untreated, can rapidly progress and cause breathing problems and physical disfigurement. More than 70,000 Saudis have some form of the condition.
The treatment of scoliosis remains challenging. Growing-rod techniques are commonly used for treatment of early-onset scoliosis, but their use requires numerous operations before the definitive spinal fusion. Every six months, a surgical procedure called distraction is required to lengthen the rods as the patient grows.
The additional surgeries are very costly and can cause economic and social stress because the children will miss school and a parent or parents will be required to miss work to assist the children.
The MAGEC rods procedure is minimally invasive, with the extension using an ERC (External Remote Controller) eliminating the need for frequent follow-up surgeries. The device meets International Magnetic Field Safety Guidelines.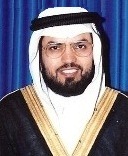 Professor Mubarak Al-Faran, dean of the College of Medicine, extolled this unprecedented achievement, thanked Dr. Alsiddiky for his work and lauded the support of Rector Badran Al-Omar.
 KSU's Scoliosis Research Chair, founded in March  of 2011, has adopted an energetic program to deal with the condition. Less than six months later, the chair launched a scoliosis national awareness campaign in cooperation with the International Scoliosis Research Society (SRS) to make everyone in the Kingdom aware of the need to diagnose spinal deformation of all types and among all ages. This was the first campaign of its kind in the Middle East.
The Chair serves as a connection with other areas of medicine and conducts research in finding therapies, treatments and options for scoliosis patients. The Chair also works to attract top-notch local and international researchers to establish KSU as a national authority on scoliosis and to develop a generation of distinguished Saudi scoliosis researchers and physicians.
Among the chair's major objectives:
Perform a Kingdom-wide survey to establish accurate statistics of scoliosis cases
Organize national programs for early detection of common spinal diseases such as scoliosis
Train the Kingdom's general physicians and pediatricians and build a network of specialized treatment centers to refer patients
Establish communication between spine disease and surgical experts throughout the Kingdom — in government and community sectors — to bolster cooperation and devise new ways to treat specific cases that meet with expert consensus
Provide a means of acquiring expertise regarding complicated cases for referral to appropriate specialists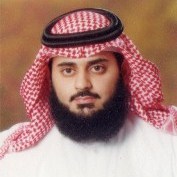 Dr. Alsiddiky is an international expert on children's bone surgery and spinal deformation. He is a member of the Scoliosis Research Society administrative board and was named supervisor of research in the Middle East Region.
The SRS is an internationally acclaimed body of physicians and allied health personnel whose purpose is to care for those with spinal, providing patient care, education, research and patient advocacy. Founded in 1966 with 35 members, the SRS has grown to include almost 1,100 surgeons in 41 countries.
Related News