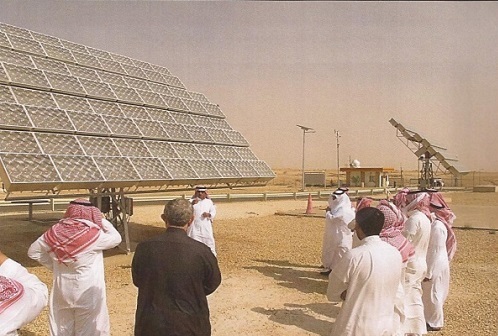 Students from King Saud University's Physics and Astronomy Department recently visited the solar village in Al-Oyeynah, where the King Abdulaziz City of Sciences and Technology (KACST) has established Al-Oyeynah Research Station.

Dr. Abdullah Al-Bassam, chairman of the Physics and Astronomy Department, and Dr. Ussama Elani, an associate professor in the department, accompanied the group.
The field trip was in support of Physics and Applications Courses 475, 477 and 575, which address sustainable energy sources. The visit was in collaboration with KACST's Energy Research Institute.
During the visit, the students learned about the work of the unit, which is the only governmental manufacturer of solar panels in Saudi Arabia. Others are made by private companies.
Most solar panels produced at the site are transported to Al-Khafaji, where the first solar-powered station for water desalination is being built. It is estimated that by 2020 all water desalination plants in the Kingdom will be solar powered.
Saudi Arabia's bid to become a major solar power producer was the topic of an article in the September 2012 issue of Reuters Energy Review. In it, Maher Al-Odan, a senior consultant at King Abdullah City for Atomic and Renewable Research (KACARE) is quoted as saying that at world market prices, solar power is competitive to crude oil use to generate electricity.
According to the article, KACARE recommends that the Kingdom aim to get more than one-third of its peak-load power supply, or about 41 gigawatts (GW), from the sun within two decades.
KACST was established in 1977 as the Saudi Arabian National Center for Science & Technology (SANCST). In 1985, it was renamed King Abdulaziz City for Science and Technology.
The Al-Oyeynah solar village program was established in 1980 to supply solar-power electricity to villages around Riyadh, eventually becoming  the first experimental solar power research station in the region. The village is 45 kilometers from Riyadh. The project is considered the first outcome of U.S.-Saudi collaboration in the use of solar energy in remote villages. The research station includes an engineering workshop, a computer lab and a storage warehouse.
Related News