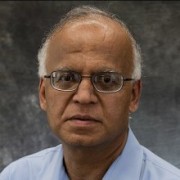 Professor Shrinivasa K. Upadhyaya, an American expert in agriculture engineering, will be the leader in a workshop entitled "Use of Infrared Sensors in Irrigation Water Management" at King Saud University next Monday (January 28) in the meeting room of the KSU Department of Agricultural Engineering.
The workshop, presented by KSU's Precision Agriculture Research Chair (PARC), will be broken into two sessions, the first from 9 a.m. to 10:30, and following a brief break, the second from 10:45 to noon. The PARC chair is Dr. V.C. Patil.
The benefits from infrared sensors include preventing excessive or inadequate irrigation and the use of irrigation at optimum periods. Many farms are equipped with flow meters and soil moisture devises, but a variety of challenges make it difficult to effectively measure and the infrared sensors can either complement the devises or be used in place of them. The Surface Energy Balance Algorithm for Land (SEBAL) is one of several popular methods that utilize thermal and short-wave information to deal with such crops as almonds and dates.
Irrigation is the world's largest user of fresh water. Experts estimate that annually 70 percent of the world's water used produces 30 to 40 percent of the world's food crops. Professor Upadhyaya serves at the University of California-Davis in the Department of Biological and Agricultural Engineering.
Agriculture is a major industry in the United States, a producer of a wide variety of vegetables and fruits, and a significant number of research projects are conducted in the state. The University of California-Davis has an outstanding biological and agricultural reputation and has participated in many agricultural research projects.