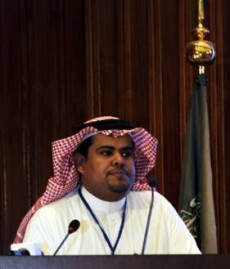 Members of Riyadh's Al-Hilal football club are set to take part in King Saud University's knee roughness campaign.
Al-Hilal captain Yasser Al-Qahtani and teammates Mohammad Al-Shalhoub and Nawwaf Al-Abed will participate in the launch of the campaign at King Khalid University Hospital today.
Saudi Arabian television actor Habib Al-Habib will also take part in the campaign.
The Chairman of KSU's Department of Orthopedics, Dr. Fawzi Aljasser, said the campaign is intended to raise awareness about knee roughness and arthritis, and highlight the importance of early diagnosis and adequate medical training.
"We were keen to have Al-Hilal Club's stars on board with the campaign because we know their popularity and their team's reputation. And they always got out of their way to answer humanitarian calls. Their presence will enrich the campaign," Dr. Aljasser said.
Dr. Aljasser also said College of Medicine students and chief residents will participate in the campaign, and that a database of the condition in Saudi Arabia and Riyadh would be developed due to a lack of data.
Knee roughness is caused by erosion of soft cartilage covering knee joint surfaces that helps to smooth their movement.
A number of factors can contribute to knee roughness, including genetics, excessive body weight, stress to the knee, and old age.
The awareness campaign is sponsored by KSU's Orthopedic Surgery Research Chair, and will run from Jan. 28 to Feb. 27 at various locations around Riyadh.
Related News