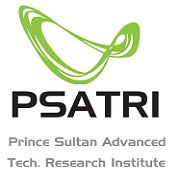 Members of King Saud University's Prince Sultan Advanced Technologies Research Institute (PSATRI) took part in the third GCC Electronic Warfare Conference held last month in Abu Dhabi, UAE.
The conference drew more than 300 attendees from Gulf and other nations, and included representatives from research and educational institutions, as well as armed forces personnel and government delegates.
PSATRI's executive director, Dr. Sami Alhumaidi, presented his paper titled "Electronic Warfare Fourth Generation: Operational Support," which covered the great advances made in defence sciences, particularly in the quality of equipment such as radar and electronic receivers, and the rapid changes in tactics for the use of such equipment.
Dr. Alhumaidi said that Gulf countries should continue to support scientific research and that in the Gulf it is time to increase the participation of civilian universities and scientists in advancing the research of electronic warfare in an era when significant advances in technology are almost routine.
Previous Electronic Warfare Conferences were held in 2010 and 2011.
PSATRI is an independent scientific organization of the Saudi government that focuses on advanced research in Saudi military matters and is capable of fulfilling the most demanding military requirements and carrying out high level research in support of Saudi national defence.
The Institute features specialized research labs focused on communication and networking, electromagnetic imaging, millimeter‐wave and infrared sensors, and intelligent systems research.
PSATRI was founded in 2008 by KSU and the Royal Saudi Air Force (RSAF) with the approval of the Minister of Defence.
Related News