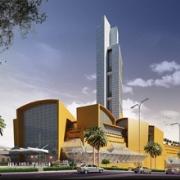 King Saud University Endowment (Awqaf) issued its 15th progress report on the University Towers endowment program covering progress made over the last six months from May to December 2012.
The report outlined the progress of the project, recent accomplishments, and the expected timetable for completion of the remaining objectives.
Final exterior work for most of the buildings is moving ahead, and work on internal fittings in the hotel has begun, such as preparing plans and material samples for rooms and suites.
Work at the Saudi Binladin tower is also underway, with internal and external etching work as well as electro-mechanical works nearing completion.
Internal and external etching work at the Sheikh Mohamed bin Hussein Al-Amoudi tower is also nearly finished, and similar exterior work at the Sheikh Abdulrahman bin Abdullah Al-Hlayyel tower are almost completed.
The exterior coating on most  buildings has been finished, and all office towers are between 40 and 85 percent complete, according to the report.
The report emphasises the program's core goal of striving to fulfil the vision of the Custodian of the Two Holy Mosques, King Abdullah bin Abdulaziz, and stressed KSU's goal to improve the University's overall performance and various academic programs through such strategic projects.
The Secretary General of the KSU Endowment program, Dr.Abdulhamid Al-Abduljabbar, gave a copy of the progress report to the Endowment's High Committee member Sheikh Abdullah Al-Mutlaq, who is also a member of the Senior Ulama board.
The two discussed the Endowment's project during a meeting in which Sheikh Al-Mutlaq congratulated Dr. Al-Abduljabbar on the progress that had been made.
In total, the project  will see 12 buildings constructed across a 1.3 square-kilometer site in Riyadh.
Building projects include malls, conference halls, a medical center, and hotels.
The 241-room Hilton Riyadh King Saud University and 144-room Residence are expected to open in the near future, and will be accessible from business and strategic areas of Riyadh.
Since it was established in 2007, the KSU Endowment strives to bolster partnerships with donors to cover various operational and educational projects.
KSU Endowment provides the University  with autonomous funds to serve the development and progress of the university.
The goal of KSU as Saudi Arabia's oldest, largest, and most prestigious higher education institution is to constantly 'improve its performance and bolster its various academic programs'.
Related News