King Saud University students concluded their visit to France last week by attending a lunch meeting with the Kingdom's ambassador in France.
The trip to France included a tour of Sorbonne University and a visit to the Faculty of Law at the university, giving the students access to the oldest college in the field of Law.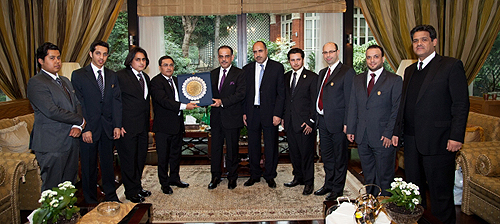 During the tour, various meetings were held with students from the Sorbonne, one of which featured the vice-president of the student union and a number of its members examining student rights and duties, and the rules and regulations in force at the Sorbonne to protect such rights.
The next day KSU students attended a session at the headquarters of Saudi cultural attaché in France headed by His Excellency Dr. Khaled Al-Khaled, who is also a faculty member at Sorbonne University.
The students, along with employees in the education field, compared and contrasted the different experiences of students at French universities to KSU, and received recommendations in helping further develop the Protection Unit of Student Rights at KSU.
The discussion was then followed with a visit from the Saudi Ambassador to France, Dr. Mohammed Al Sheikh.
His Excellency Dr. Al-Khaled received the delegation at his residence in Paris where the students had lunch with both the ambassador and the cultural attaché, Dr. Ibrahim al-Balawi, who had played an influential role in organizing the trip.
The next day His Excellency gave the KSU delegation a tour of the various departments at the attache and reviewed the services offered to Saudi students.
An open meeting was later held in His Excellency's office where they reviewed the higher education system in France and the role of the student in this structure.
Besides the trip to the Sorbonne and diplomatic quarters, the program also included outings to the monuments of Paris, such as the Louvre, the Palace of Versailles, as well as a visit to the Arab Cultural Center, the Islamic Center, and Friday prayers.
Mr. Abdulaziz Anizan and Hossam Al-Qahtani headed the delegation to France with participation from students Munif Fence, Sultan Al-Mutairi, Nayef Anzi, and Ahmed Laroui.
The head of the delegation expressed his gratitude to Rector Badran Al-Omar, and the Dean of Student Affairs for their support of the travel program.
Related News