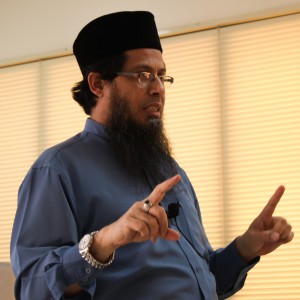 Renowned Malaysian e-learning consultant and web tools expert, professor Mohamed Amin Embi, led a workshop earlier this week at King Saud University's College of Medicine aimed at helping health students and faculty get familiar with e-learning and some of the various web tools available to them.
The workshop, "Engaging Health Students in Meaningful Learning via Interactive & Collaborative E-learning Web Tools," was organised by the Medical Informatics and E-learning Unit (MIELU) and saw around 20 participants.
Those who attended got the chance to learn and explore a range of web tools they can use to turn static learning environments into collaborative ones.
Professor Embi said that while web based software, often called web tools, and the more interactive Web 2.0 are not new concepts, many in academia know little of them.
"I have noticed that especially among educators - I've run many simple surveys - most people have not heard what Web 2.0 is all about. I found 'wow,' there are so many free stuff, there are so many tools that can be used in teaching and learning, and it's a pity that lecturers are not aware of this," Embi said.
He describes Web 2.0 as a new generation of web content that is more dynamic and interactive than the internet's earlier sites that were mainly used to display information.
"It is something that allows exchanging of information, sharing of information. Social media can be said to be Web 2.0. There's a lot of user-generated content."
Bringing these tools to the classroom can create a more collaborative learning environment than that found in traditional classrooms.
"In the traditional classroom, only the professors create the learning content. I think content can be co-created by learners," Embi said.
"In the Asian culture, in the Middle East context, to get students to create and co-create learning content is something new. But that's the way forward. Then the students feel 'oh, I'm part of learning.'"
Critics of collaborative learning methods like professor Embi's point out that relying on content that can be generated by almost anyone eliminates the checks and balances associated with peer-reviewed journals and textbooks.
But Embi argues collaborative e-learning methods and web tools have their own ways of ensuring quality content.
"If you publish something on a journal, the number of people who will review it, although these are experts, the number is limited. But the moment you go public, you got the whole world to criticize you. So in a way, quality is actually ensured by the community. It's chaos, but it can still be controlled because values are decided by the community. They decide what is good, what is bad," he said.
As for the quality of e-learning and the use of web tools at KSU, Embi said he hadn't been at the University long enough to see what usage is like, but that the level of infrastructure was impressive.
"For example, KSU alone has about 2000 Smart Boards. I think if you put the whole of Malaysia together, you wouldn't get what KSU has got, so I think they're ahead it terms of the infrastructure."
However, Embi said, higher education institutions in most countries still see e-learning and web tools in terms of online repositories for information, something that he argues has to change.
"I refer to the e-learning concept as like a fridge, like an online repository. You just put your notes, people come take your notes. I think learning should be more than that. People should be engaged in the learning process."
Professor Mohamed Amin Embi has won a number of awards for his work on web tools and e-learning, including Malaysia's National Academic Award for Teaching Innovation (2006), ISESCO Prize for Science & Technology (2010), and the Malaysian Achievement Award (2012). 
Related News